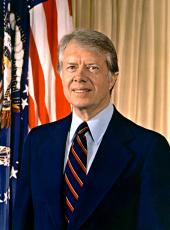 United States Ambassador to Lebanon Nomination of Richard B. Parker
The President today announced his intention to nominate Richard B. Parker, of Manhattan, Kans., a Foreign Service officer of Class one, to be Ambassador Extraordinary and Plenipotentiary of the United States of America to the Republic of Lebanon. He would succeed Francis E. Meloy, Jr., deceased.
Mr. Parker was born July 3, 1923, in the Philippines of American parents. He received a B.S. in 1947 and an M.S. in 1948 from Kansas State College. He served with the United States Army as a first lieutenant from 1943 to 1947.
In 1948 he served as executive secretary, Kansas City Commission for UNESCO. He entered the Foreign Service in 1959 and was assigned as consular officer, Sydney. From 1951-53 he was Deputy Principal Officer, Jerusalem, and during 1953-54 he took language training at the Foreign Service Institute in Beirut. From 1954-57 he was political officer, Amman.
In 1957-58 he served as International Relations Officer, Department, and from 1958-61 he was Libyan Desk Officer, Department. In 1961 he took language training at the Foreign Service Institute. From 1961-64 he was political officer, Beirut, and in 1964-65 he was on detail as a Woodrow Wilson Fellow, Princeton University.
In 1965 he became Counselor of Political Affairs, Cairo, and from 1967-70 he was Country Director for United Arab Republic. From 1970-74 he was Deputy Chief of Mission, Rabat. In 1974 he became Chief of the United States Interests Section in Algiers and on November 12, 1974, he became charge d'affaires ad interim, Algiers.
Since 1975 he has been Ambassador to the Democratic and Popular Republic of Algeria.
He is fluent in Arabic (Eastern) and French. He is married to the former Jeanne Jaccard, and they have four children.
Jimmy Carter, United States Ambassador to Lebanon Nomination of Richard B. Parker Online by Gerhard Peters and John T. Woolley, The American Presidency Project https://www.presidency.ucsb.edu/node/244245