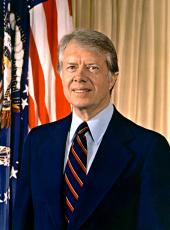 United States Ambassador to Italy Remarks at the Swearing In of Richard Gardner.
THE PRESIDENT. Hello, everybody. It's nice to have you here for a very important occasion. We have known each other for a long time, Richard Gardner and I and his wife, Danielle.
During the 2 or 3 years that I was preparing to take over as President, I had a few very close and constant advisers, and Richard Gardner was one of them. He helped me in the preparation of some of the major speeches that I made to the United Nations on nuclear proliferation and in analyzing foreign affairs. And I was quite delighted when Cy Vance came shortly after the inauguration to say, "We need very urgently to have an outstanding Ambassador to Italy, and I have a recommendation to make to you," and I was particularly delighted when he said, "It's Richard Gardner."
So, we had had a very common approach to the importance of our friendship with Italy--a need to appoint a superb person to serve there. And also we have an added bonus in that Danielle will fit in very well with the Italian community, being part of it, and I think this is a standard of diplomatic appointments that I doubt that I can continue to equal no matter how hard I try.
We have a very important friendship with Italy. They are our staunch friend and allies. And I believe that this will do justice to them, and I know that Richard Gardner and Danielle will make our country proud of their service as Ambassadors to Italy.
I would like to ask now Judge Higginbotham to give the oath, and I know that all our people in this country are thankful to Dr. Gardner for being willing to go to Italy, and I know the Italian people will be as pleased as I am that he will be there.
[At this point, Judge A. Leon Higginbotham, Jr., of the United States District Court [or the Eastern District of Pennsylvania, administered the oath of office.]
AMBASSADOR GARDNER. Mr. President, my family and I are deeply honored by your presence, by the presence of Mrs. Carter, by your gracious words and by the high honor that you've bestowed upon us.
Thirty-nine years ago, because of Italian fascism, Bruno Luzzatto, my dear father-in-law, who's with us today, took his family out of Italy and to the United States. Because of that I met Danielle and came to know the great people of Italy.
I even learned, Mr. President, to speak Italian with a Venetian accent. And I learned an old Venetian saying which goes--and Danielle, correct me if I don't have it quite right--Prime di parlare, taci, and I think a rough translation of that, a polite translation of that is, "Before you speak, ,be quiet."
Sir, I will try to carry out that wise dictum as your Ambassador to Italy.
Mr. President, last night at the United Nations you emphasized the goals and values of the United States--disarmament and peace, economic justice within and between nations, and human rights and democratic processes. These are precisely the great values which the American people and the Italian people together share, and that's why the friendship of the two countries is truly unbreakable.
We are deeply honored by your confidence in us. We will do our best to be worthy of it. Thank you, sir.
Note: The President spoke at 1:35 p.m. in the Cabinet Room at the White House.
Jimmy Carter, United States Ambassador to Italy Remarks at the Swearing In of Richard Gardner. Online by Gerhard Peters and John T. Woolley, The American Presidency Project https://www.presidency.ucsb.edu/node/243169