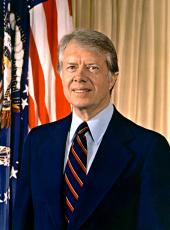 United States Ambassador to Botswana, Lesotho, and Swaziland - Nomination of Donald R. Norland
The President today announced that he will nominate Donald R. Norland, of Mason City, Iowa, to be Ambassador Extraordinary and Plenipotentiary of the United States to Republic of Botswana, to the Kingdom of Lesotho, and to the Kingdom of Swaziland. Norland is presently serving as Ambassador to these countries under appointment made during the last recess of the Senate.
He was born on June 14, 1924, in Laurens, Iowa. He received a B.A. in 1948 and an M.A. in 1950 from the University of Minnesota. He served in the U.S. Navy from 1943 to 1946.
Norland was an instructor at Iowa State Teachers' College from 1949 to 1951 and a teaching fellow at the University of Michigan in 1951-52. He entered the Foreign Service in 1952 and served as public affairs officer, then political officer, in Rabat until 1956.
From 1956 to 1957, he was international relations officer for North African affairs at the Department of State, and from 1957 to 1958 he was Moroccan desk officer at the Department. From 1958 to 1960, he was principal officer in Abidjan, and beginning in August 1960 he also served as Charge d'Affaires to Upper Volta, Niger, and Dahomey.
From 1961 to 1963, Norland was political officer, Paris (USRO), for the United States Delegation to NATO. From 1963 to 1964, he was on detail to the Air Command and Staff College at Maxwell Air Force Base.
Norland served as political officer, then counselor for political affairs, at The Hague from 1964 to 1969. In 1969-70 he attended Stanford University as a State Department Fellow. From 1970 to 1972, he was Deputy Chief of Mission in Conakry.
Norland served as a political-military affairs officer at the Department from 1972 to 1973 and as a personnel officer from 1973 to 1975. He was Deputy Director for Management Operations in the Office of the Deputy Under Secretary for Management from 1975 to 1976, when he received the recess appointment as Ambassador to Botswana, Lesotho, and Swaziland.
Jimmy Carter, United States Ambassador to Botswana, Lesotho, and Swaziland - Nomination of Donald R. Norland Online by Gerhard Peters and John T. Woolley, The American Presidency Project https://www.presidency.ucsb.edu/node/243618