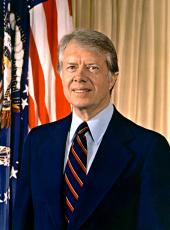 United Jewish Appeal Remarks at the Organization's National Young Leadership Conference
First, I'd like to say to Phil Schaeffer that both I and his mother-in-law appreciate that introduction. [Laughter]
This is an exciting day for me, to come here and to see the spirit and dedication, the hope, the idealism, the common purpose, the exemplification of the ideals of our Nation which permeate this audience, and to go, in just a few minutes, to greet the winner of five gold medals in speed skating and an American hockey team that whipped the Soviets and went on to bring the gold medal to our people. This is a wonderful weekend for me and a wonderful morning for me as well.
I want to thank Stanley Frankel and Bobi Klotz for meeting me outside and the members of the leadership of the conference of United Jewish Appeal for letting me come this morning. You and I have common goals and common purposes, a common dedication which binds us together, both collectively and individually.
It's a pleasure to be here, because this group embodies the support of the American people for the poor, the aged, the deprived, the suffering, the persecuted, and also because you embody the support for the peace and the security of Israel. Your support for Israel is an example for the American people. And as I hope you know quite well, this is a commitment which I share with you now and in the future.
Since 1977, when I became President, with the help of Phil and many of you, we have recommended over $10 billion in military and economic assistance for Israel. This aid is important for Israel's security and for the well-being of the people who live in that free and democratic nation. And we will continue to provide sufficient aid to Israel to enable it to defend itself against any possible adversary. And you can depend on that.
In a ceremony in front of the White House, on the South Grounds of the White House, I told Prime Minister Begin on the anniversary of the founding of Israel, and I'd like to quote: "For 30 years we have stood at the side of the proud and independent nation of Israel. I can say without reservation, speaking on behalf of the American people, that we will continue to do so, not just for 30 years but forever."
I would like to emphasize, in the strongest possible terms, that our aid for Israel is not only altruistic; indeed, our close relationship with Israel is in the moral and the strategic interest of the United States.
There is a mutual relationship and there is a mutual benefit and there is a mutual commitment, which has been impressed very deeply in my mind and also in the minds of the leaders of my Government and the Government of Israel. And I will continue to work with the leaders of Israel to strengthen even further our common commitments and our common goals. We know that in a time of crisis, we can count on Israel. And the people of Israel know that in a time of crisis, they can count on the United States.
And we are working with Israel to meet the dangers that threaten American and Western interests in the broadest sense. Israel is an important force for stability in the Middle East. It has a vital role to play in meeting threats to that entire region.
Tomorrow will be another great day for me and for you. Egypt and Israel will exchange Ambassadors. The first time I ever met with President Sadat, on the second floor of the White House in my private quarters, we sat in adjacent chairs, and I spelled out to him, early in 1977, my hopes and my dreams for the future relationship between Israel and Egypt.
I said, "Someday I would like to see the borders open. And someday I would like to see a recognition that you all can live in peace after four wars in 30 years. And someday I would even like to see a recognition by you of Israel as a sovereign nation." And he responded to me. "Mr. President, it may be possible for us to stabilize the situation, and it may be possible for us to have successful negotiations in the future. But in my lifetime we will never see diplomatic recognition between Israel and Egypt." And I responded, "President Sadat, please don't give up. Give us 4 or 5 years to work on it." And he said, "Well, I'll keep an open mind, but this is one goal which I don't think will be possible in my lifetime."
Tomorrow it will come true—a dream—and I'm very grateful for it. It's an incredible event and a hopeful beginning for peace and for reconciliation among the nations of the Middle East. It caps an intensive 3-year effort—3 years that include President Sadat's historic visit to Jerusalem, the Camp David summit, which was characterized ahead of time as a wasted effort, my own journey last year to Israel and to Egypt, and an historic .accord that was signed on the north side of the White House last May [March] in a binding treaty between two ancient, warring countries, which are now friends, one with another.
After more than 30 years of conflict and after more than four major wars, peace has become not just a hope but a living reality on one major frontier of that beloved country. These extraordinary months have changed the political landscape of the entire Middle East-forever, we pray—toward a permanent and a comprehensive peace.
In the days ahead, we will work to solidify the peaceful relationship between Israel and Egypt and to expand that peace to encompass all the neighboring countries which surround Israel. Resolution of the Palestinian issue in all its aspects, an achievement of a comprehensive peace on the basis of U.N. Resolutions 242 and 338 and the Camp David accords, is the best way, in the long run, to ensure Israel's security.
We are now embarked on a negotiation which is persistent and determined, under the leadership of Ambassador Sol Linowitz, Ambassador Yosef Burg, and Prime Minister Mustafa Khalil, aiming for two goals: first, a self-governing authority for the Palestinians who live in the West Bank and Gaza, to enable them to participate in the determination of their own future; and second, arrangements to preserve Israel's legitimate security requirements, to be recognized not only by us but by all nations.
Let me assure you that in this negotiation, as we work for the legitimate rights of the Palestinians, recognized in the Camp David accords by Prime Minister Begin and President Sadat, that we will countenance no action which could hurt Israel's security. This is because of our commitment to Israel's security and wellbeing, and it's because Israel's security is so closely linked to the security of the United States of America.
Also let me restate a clear policy that has guided me through all these deliberations and which will guide me in the future. I am opposed to an independent Palestinian state, because in my own judgment and in the judgment of many leaders in the Middle East, including many Arab leaders, this would be a destabilizing factor in the Middle East and would certainly not serve the United States interests.
I will not negotiate with nor recognize the Palestine Liberation Organization, unless it first recognizes Israel's right to exist and accepts United Nations Security Resolutions 242 and 338. It is past time for a total end to terrorism against Israel and the people who live there.
And finally, let me add that my policy of promoting human rights throughout the world remains firm. In 3 years we have made this an important matter on the world agenda. I don't believe this issue escapes the constant notice and awareness of any leader in any nation on Earth. Rather than look the other way, for instance, we have insisted that the Soviet Union live up to its public promises, made in the Helsinki accords, to protect the political and the social rights of its own citizens and of others. Support for human rights, like support for Israel, is an expression of basic American ideals.
I wish you well in your deliberations here. You represent the finest aspects of the future of our country. Working together we can build a better America, and working together we can build a more peaceful world. That's my prayer, which I share with you.

Thank you very much.
Note: The President spoke at 11:09 a.m. in the Sheraton Ballroom at the Sheraton-Park Hotel. In his opening remarks, he referred to Philip A. Schaeffer, Stanley D. Frankel, and Bobi Klotz, members of the executive committee of the Young Leadership Cabinets.
Jimmy Carter, United Jewish Appeal Remarks at the Organization's National Young Leadership Conference Online by Gerhard Peters and John T. Woolley, The American Presidency Project https://www.presidency.ucsb.edu/node/250409