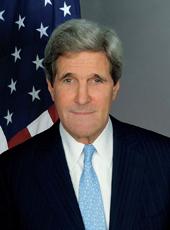 "United for a New America": Remarks of John Kerry
Thank you for an unbelievable welcome.
I want to start by saying something nice about President Bush. Of all the Presidents we've had with the last name of Bush, his economic plan ranks in the top two.
This has been an amazing journey. And I never could have made it without my wife Teresa. So many people from Iowa and New Hampshire on got to know her for the down-to-earth, nurturing person she is – and with your help, America will come to know her as a great First Lady.
President Clinton – you brought our Party back to the White House and our nation back to economic greatness – because instead of destroying jobs you created them – 23 million new jobs for America while Bill Clinton was President.
President Carter – you set the standard for human rights. And you had a vision of alternative and renewable energy that we must fulfill so that no young American in uniform should ever have to fight and die because of our dependence on Mideast oil.
Al Gore – you should have been inaugurated as well as elected President – your example during those post-election weeks four years ago showed us that there is a higher standard than the smash and smear tactics of those determined to win at any price. Ask anyone in this country if they would trade the Bush economy for the Clinton-Gore years and the answer is -- "yes." This year, our opponents don't have a record to run on, but only a record to run from – so they've turned to the old negative politics. I pledge to you here tonight: We're going to fight back and we're going to win in the right way – that lifts our country up instead of driving our politics down to the lowest common denominator.
And let me thank our tireless Chairman, Terry McAuliffe, for making it possible for us to hold this Unity Dinner so early in this election year.
I feel especially strengthened tonight by the support of those who were recently my competitors but always my friends. Each of them fierce and passionate advocates for causes that define our party – and our country.
Carol Moseley Braun...
Wes Clark...
Howard Dean...
John Edwards...
Dick Gephardt...
Bob Graham...
Joe Lieberman...
Al Sharpton...
I am personally grateful for what they have taught me during this process – and far more, we are, all of us, grateful for what they gave the nation in this primary campaign.
Never has the Democratic Party been more united than it is today.
And tonight, not just as Democrats, but as Americans, we are united in the belief that America deserves better than a debate full of attacks and distortions.
The times are too serious and the stakes are too great. And this campaign should be a great debate about how we're going to restore hope and opportunity and the best future for our people.
Again and again on the economy, we have heard false promises and easy reassurance. But for real people living real lives in this country, a jobless recovery is no recovery at all. The economic policies in place today have not worked, are not working, and will not work. Over the last four years, the middle class's share of the tax burden has gone up while wages have gone down. Our present leadership believes that those who have the most do not have to do their part to make America stronger. We believe that underestimates the American people and what they are willing to do for our country. Americans deserve better – we know better – and these aren't just words. We need to restore a worker's ability to get ahead in return for hard work. We need to stand up for the right to organize. We need to make the tax code fair. We need to provide middle class tax relief. We need a new economic policy that puts an end to wasteful tax cuts for the wealthy – and offers new incentives for manufacturing companies to create and keep good jobs here at home.
Let me tell you: that's one thing we know how to do – create jobs. With President Clinton, we not only created those 23 million new jobs; we turned vast budget deficits into record surpluses for America that could have and should have been used to protect Medicare and Social Security.
Now we need to restore sanity to America's budget. Every day the deficit gets worse and worse. It's at the point where a child born today is inheriting a $35,000 debt that he or she had no part in creating. There is nothing conservative – noting mainstream – and nothing responsible – about the reckless runaway deficits now being created in this country. It was our strategy that worked before to get the nation's deficit under control – and grow our economy – and we will do it again.
Over these past months, nothing made a greater impact on me than the stories I heard from so many families around the country about health care in America. Businesses and individuals are getting clobbered. The health care policies of our present leadership have not worked, are not working, and will not work. I intend to complete the mission begun by Harry Truman in 1948 and finally make health care available and affordable for all. None of us should ever have to hear again from a parent who fears that endlessly increasing costs will deny essential care for their children. We cannot stand by while hard-working people watch health insurance premiums rise out of reach. So we will finally get health care costs under control. And we must and will end the injustice of drug companies making bigger and bigger profits while more and more people go without insurance or the prescription medicine they need. The time has come for America to stop being the industrial country not to understand that health care is a right, and not a privilege.
We also have to meet the great challenges of freeing America from its dependence on oil from half a world away. As President, Jimmy Carter saw the nation's need, but we have waited almost 30 years – and we can no longer afford to wait. We reject the false choice of our opponents between energy and the environment. Our values lead us to safeguard our air and our water. And our vision leads us to a bold new plan for energy independence. The answer to soaring gas prices is not to drill in the Alaska Wilderness; it is to invest in the technologies of the future and create 500,000 new jobs in the process. And then future generations will never have to pay the price of war for Mideast oil.
And whatever our disagreements on any specific issue, as we begin this general election, there is one message I want all Americans to hear – and which all of America's friends and enemies need to know: When it comes to defending our security and defeating the terrorist threat, this nation is united. We will stand as one country to protect the safety of our people. And we will never rest until we win the War on Terror.
And as Commander-in-Chief, I will be ready to wage a more effective War on Terror – and we will win. By giving our troops the weapons and equipment they need, by rebuilding our alliances, and by giving our firefighters and first defenders the tools they rely on. Let's not forget it was the Democratic Party's leadership that helped build the military that performed so brilliantly in Afghanistan and Iraq – and we won't take a backseat to anyone when it comes to making America safe.
At times, conflict will come and the decision must be made. For a President, that decision may be lonely, but that does not mean that America should go it alone. We will fight for an America that is once again both respected for its might and admired for its ideals.
Above all, this country deserves leadership that faces the truth and tells the truth – that trusts the American people and knows that when we live up to our values, the United States of America never goes to war because it wants to, but only because it has to.
And we will make it clear that the first definition of patriotism is keeping faith with those who wore the uniform of the United States of America.
For more than 35 years, I have fought for our country. And that is exactly what I intend to do as President. In this campaign, I have been reminded of something I learned as a young man on a Navy boat on the other side of the world: that what holds us together as Americans is so much more powerful than what divides us.
George Bush, who promised to be a uniter, has become the great divider. He has proposed to amend the Constitution for political purposes. He has no right to misuse the most precious document in our history in an effort to divide this nation and distract us from his failures.
Our opponents can't campaign on jobs – or health care – or education – or fiscal responsibility. But we can – and we will.
Everywhere I have been in America, I have seen the yearning for a new direction for our country. I've heard it in town meetings. I've seen it in the eyes of a middle aged couple where a husband lost his job – and his wife, who has breast cancer, has to keep working through her chemotherapy just to keep her health insurance. I have listened to families ask why they had to pay for body armor for sons and daughters on the frontlines in Iraq.
I promise to be a President who fights for them – and for all our people.
Together, in the months ahead, we will call on the best in Americans – and stand up for the best America. We will give America back its future and its truth.
Now let's go out there and win this election.
I say to you tonight: A new day is on the way.
John F. Kerry, "United for a New America": Remarks of John Kerry Online by Gerhard Peters and John T. Woolley, The American Presidency Project https://www.presidency.ucsb.edu/node/216754