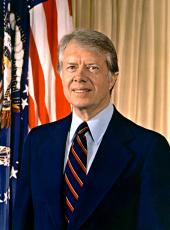 Undocumented Aliens Letter to State Governors.
During my visit to Mexico City in mid-February, I had a frank and useful discussion with President Lopez Portillo on the complex issue of border law violations and particularly the problem of undocumented workers. We agreed to cooperate closely to explore the question in the context of the social and economic problems involved—a solution that also respects the dignity and human rights of those concerned. One aspect of this question, the treatment of undocumented workers in the United States, has been of particular concern to me and to President Lopez Portillo.
As I stated in Mexico, it is my responsibility to enforce our immigration laws. Those individuals who violate the law will be dealt with as the law prescribes. But it is also our responsibility to deal fairly and humanely with any persons accused of being undocumented workers.
For some time we have been making a special effort at the Federal level to ensure their fair treatment under the law. The Immigration and Naturalization Service has steadily improved the conditions under which undocumented workers are temporarily confined and has adopted a number of measures to prevent mistreatment and to allow apprehended aliens time to settle their affairs before departure. The Department of Labor is making a special effort in those areas believed to have a sizeable presence of undocumented workers to enforce wage, hour, safety and health standards and to assure that workers who are apprehended and removed from the country receive all wages due them.
Since many of the problems that undocumented aliens experience are under state and local jurisdiction, I ask that you give these concerns your close personal interest. I, in turn, would welcome your suggestions of areas you might suggest in which further Federal action would be useful.
The Department of Justice is giving special attention to investigating and, where warranted, prosecuting, possible civil rights violations against any persons of Hispanic origin.
Our country's deep commitment to standards of justice and humaneness requires us to protect the basic rights of all people who find themselves in this nation.
JIMMY CARTER
Jimmy Carter, Undocumented Aliens Letter to State Governors. Online by Gerhard Peters and John T. Woolley, The American Presidency Project https://www.presidency.ucsb.edu/node/249111