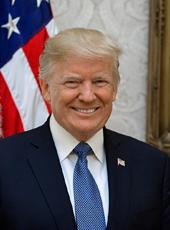 Trump Travel Pool Reports of January 20, 2021
Pool Reports by Rob Crilly, Washington Examiner
Sent:
Reports:
January 20, 2021
08:21

Trump travel pool report #1: JBA scene

Good morning from a chilly and bright Joint Base Andrews which has been set up as if for a campaign rally. We are awaiting the arrival of Marine One.

POTUS departure remarks will be streamed at
https://www.whitehouse.gov/live/ Expected at 0820. We are then due to depart for Palm Beach for the next chapter.

Podium is set up on the apron with a backdrop of 17 flags and Air Force One behind it (tail number 28000). Air Force One is dressed with a red carpet to its steps for today.

A crowd streamed in as Elton John's Love Lies Bleeding played, a few minutes before Marine One was due to depart White House. They were wrapped up against the cold weather and one or two junior staffers could be seen among them. Many were in business attire. Sebastian Gorka was also spotted. Pool estimated 200-300.

Four cannon are lurking behind pool's position, ready for a 21 gun salute.

Aficionados of the campaign will recognise the warm up music. Space Oddity, House of the Rising Sun, Eye of the Tiger, We Are the Champions, Beat It, Macho Man, Fortunate Son.

Travelling pool was tested at the White House this morning and then driven to Andrews. Pool van got clogged in traffic on way into Andrews as attendees overwhelmed gate capacity.

January 20, 2021
08:29

Trump travel pool report #2: Marine One

Marine One wheels down JBA at 0828 as Gloria plays to crowd.

Don Jr, Kimberly Guilfolyle, Eric Trump, Lara, Tiffany and fiancee, Ivanka and Jared, Mark Meadows and wife are all lined up to the side of the podium

January 20, 2021
08:36

Trump travel pool report #3: Remarks

Marine One taxied behind stage. After music finished (Don't Stop Believin) Potus and the First Lady were announced.

The Air Force Band struck up Hail to Chief.

And a 21-gun salute sounded as POTUS took the stage

POTUS remarks starting at 08:35

January 20, 2021
08:45

Trump travel pool report #4: wrapping

Remarks concluded at 844 with YMCA

FLOTUS stood on podium with POOTUS. He started by thanking Mark Meadows. And handed over to FLOTUS briefly

FLOTUS: "Thank you for your love and supoort. You will be in my thooughts and prayers. God bless you all."

POTUS:
We created a new force called space force that in itself would be a major achievement for a regular administration we were not a regular administration.

I hope they don't raise your taxes. But if they do, I told you so.

"We have the greatest country in the world. We have the greatest economy in the world, and as bad as the pandemic was, we were hit so hard just like the entire world was hit so hard..."

Says the Covid vaccine was a "medical miracle"

"As the athletes would say we've left it all on the field."

Crowd broke into chant of USA at one stage.

January 20, 2021
08:52

Trump travel pool report #5: boarding AF1

POTUS walked to AF1 through an honor guard with Melania hand In hand. He climbed steps turned and clapped to crowd before they both waved and entered at 0848.

Wheels up shortly.

January 20, 2021
09:00

Trump travel pool report #6: wheels up

For Palm Beach at 0859

January 20, 2021
10:54

Trump travel pool report #7: Palm Beach International

Air Force One was wheels down at Palm Beach International Airport at 10:54.

There were no visitors to the rear cabin.

Air Force One made a low level pass of Mar-A-Lago as it approached the airport. The club's Mediterranean architecture could be clearly seen off the plane's starboard side.

Staffer helped us out with notable travellers as pool could not see who boarded. Ivanka and Jared, Don Jr and Kimberly, Eric and Lara, Tiffany and Michael, and Barron were all on board.

POTUS spent his last AF1 flight with his family.

Also aboard were Dan Scavino and Jason Miller, according to the official.

TVs in rear of the plane were tuned to Fox News, which showed split screen of AF1 departing and Biden going to church ahead of inauguration.

Pool and staff were served Southern style steak and eggs, with grits.

January 20, 2021
11:09

Trump travel report #8: Motorcade

POTUS deplaned at 11:05 with Flotus beside him in a flowing, tropical-colored dress and shades. POTUS was still his dark suit, white shirt and red tie.

He stopped and waved to pool at bottom of steps and mouthed "thank you." And climbed into an armoured Suburban.

Motorcade rolling at 11.08.

Pic of MAL flyover attached.
[APP Note: The picture noted above was not included in the report received by the APP.]

January 20, 2021
11:24

Trump travel pool report #9: pardon Pirro

From Judd Deere:

Today, President Donald J. Trump granted a full pardon to Albert J. Pirro, Jr.

January 20, 2021
11:32

Trump travel pool report #10: MAL

Pool vans peeled off POTUS motorcade as it pulled into Mar-A-Lago at 11.31 with 29 minutes of Trump's presidency remaining. Pool holding in parking lot. For our last 29 minutes.

There was no crowd or greeters at airport. But supporters had gathered at key points along route at places in dozens

Some had Trump-Pence 2020 flags. Many wore red MAGA hats. A "f*** Biden" sign was spotted. One woman was crying as she held aloft a "We are not fake news."

Some dissenters were spotted with a sign saying: "Firefighters for Biden." A protester held up an "Odor of Mendacity" sign. There was also a "You're Fired" and "Loser" sign.

But the pro-Trump crowd stretched a couple of miles before the bridge on to Palm Beach Island. Two or three deep in places.

"We love you 45." "Support our Police." We're among other signs along the route.

A pink sign congratulating Tiffany on her engagement was also spotted.

The motorcade travelled at a crawl - not like the usual race down the road to MAL - slowing at each group presumably so POTUS could take in the support and wave.

January 20, 2021
11:47

Trump travel pool report #11: Closing up in Palm Beach

Pool is holding outside Mar-a-Lago. By some mystical powers the POTUS pool will dissolve in Palm Beach at midday to be replaced by POTUS pool in DC. For IT reasons, I am handing over to in-town Biden pool now, so that the messages can all be passed on OK. But the pool will monitor things here until midday just in case.

It just remains for me to thank my fellow poolers on this historic day, for keeping things on the straight and narrow. And in particular to thank wrangler extraordinaire Margo Martin who kept us all in the right places and on time during her final day with the White House.
Donald J. Trump, Trump Travel Pool Reports of January 20, 2021 Online by Gerhard Peters and John T. Woolley, The American Presidency Project https://www.presidency.ucsb.edu/node/348901