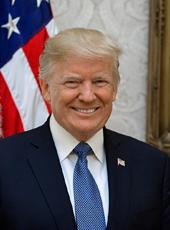 Trump Campaign Statements on the President's Nomination of Amy Coney Barrett for the U.S. Supreme Court
"President Trump's nomination of Judge Amy Coney Barrett is a brilliant choice as she is one of the most respected Constitutional jurists in the country. Her collegiate and professional pedigree make her perfectly suited for the Supreme Court, having graduated magna cum laude from Rhodes College, first in her class at Notre Dame Law School, and having clerked for Justice Antonin Scalia. Judge Barrett is an outstanding mother, person, and judge and I'm certain she will excel as a Supreme Court Justice."
- Newt Gingrich, former Speaker of the U.S. House of Representatives
"Judge Amy Coney Barrett is a strong, vetted Constitutional textualist, who previously received bipartisan support in the Senate, and will bring honor to the Supreme Court. She will be an independent voice on the Court to protect Americans' fundamental rights, including religious freedoms and Second Amendment rights. Judge Barrett is an excellent selection by President Trump and should be confirmed by the Senate in short order. The Senate must confirm her to restore the Court to its full complement of nine Justices to hear and decide cases of importance sure to come in the near future."
- Justin Clark, Trump 2020 deputy campaign manager
"Amy Coney Barrett is exactly the type of jurist the founders envisioned when creating Article III and the judicial branch. She has a strong record of faithfully interpreting and applying the Constitution and the law as written, not writing law and policy from the bench. The Democrats dangerously believe the Supreme Court should be a tool for political activism and be used to push through their radical leftist agenda - and that's why they are now talking about packing the court. President Trump promised to put Constitutionalists on the bench and he's kept that promise."
- Jenna Ellis, Trump 2020 legal advisor
"Judge Amy Coney Barrett is an outstanding nominee to the United States Supreme Court, just as she was to the 7th Circuit three years ago. Given Judge Barrett's experience as a law clerk to Justice Antonin Scalia, a law professor at Notre Dame for many years, and a sitting judge with a strong record on numerous important issues that all may view and consider, her legal credentials are impeccable. But even more — her humanity as a mother of seven who adopted two children from abroad, and as a woman of faith, gives us comfort that a Justice Barrett will rule on our nation's most important cases from a place of integrity and the wisdom of years of experience. Many thanks to President Trump for nominating a third highly qualified jurist who respects the rule of law and its place in our republic."
- Harmeet K. Dhillon, Co-Chair, Lawyers for Trump
Donald J. Trump, Trump Campaign Statements on the President's Nomination of Amy Coney Barrett for the U.S. Supreme Court Online by Gerhard Peters and John T. Woolley, The American Presidency Project https://www.presidency.ucsb.edu/node/345710