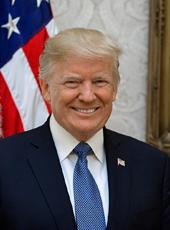 Trump Campaign Statements - Team Trump on Biden's Vow to Eliminate School Choice
Donald J. Trump for President, Inc. released the following statements in response to Joe Biden's remarks at the National Education Association's annual meeting and representative assembly. While President Trump has been a fierce advocate for school choice and unleashing opportunity for all American families, Joe Biden has once again caved to the radical left's extreme agenda by championing policies that would limit solutions and doom children to failing schools for years to come.
"No child in America should be denied the right to a quality education because of their zip code," said Mercedes Schlapp, Trump 2020 Senior Advisor for Strategic Communications. "President Trump is actively improving our education system by providing opportunities for parents to choose the school with the best education for their children. Unlike Joe Biden and his advisors of the far-left who want to stifle education, President Trump is a champion of school choice, ensuring Americans learn the skills they need to confidently enter the workforce and create a more inclusive economy. We cannot allow Joe Biden, or the extremist liberal party he leads, to doom our children to failing schools for their own political agenda. President Trump is the leader we need in 2020 to ensure our children have an equal opportunity to chase the American Dream."
"School choice is a civil rights issue—period. Education is the single greatest equalizer in our society and it's a shame that candidate Biden has sworn to eliminate the lifeline of millions of children and families to rise out of poverty," said Katrina Pierson, Trump 2020 Senior Advisor. "Biden's allegiance is to the unions, not to our children and it's clear that he's taken the Black vote for granted. In fact, 68% of Black Americans and 82% of Latino Americans support school choice. Thankfully, President Trump and Secretary DeVos have made school choice a pillar of this Administration and have worked to not only expand school vouchers, but fight for education freedom for all."
Donald J. Trump, Trump Campaign Statements - Team Trump on Biden's Vow to Eliminate School Choice Online by Gerhard Peters and John T. Woolley, The American Presidency Project https://www.presidency.ucsb.edu/node/348546