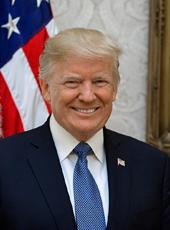 Trump Campaign Statement - Trump Campaign Marks Juneteenth 2020
On Friday, June 19, 2020, in honor of Juneteenth, Katrina Pierson, Senior Advisor to Donald J. Trump for President, Inc., released the following statement:
"Today, we join America in honoring Juneteenth, the day reserved for recognizing the abolition of slavery in the United States in 1865. While even today our nation continues to work towards healing from this legacy of the past, we look ahead with optimism that there is far more that unites us in America than divides us. Throughout his presidency, Donald Trump has delivered unprecedented results for the African American community, including reuniting families through his bipartisan prison reform, delivering a record number of jobs and the lowest African American unemployment rate on record, and greater support for HBCUs than any president in history. President Trump will build on this record even further in the years ahead to help build a new and great legacy for all African Americans."
Donald J. Trump, Trump Campaign Statement - Trump Campaign Marks Juneteenth 2020 Online by Gerhard Peters and John T. Woolley, The American Presidency Project https://www.presidency.ucsb.edu/node/348539