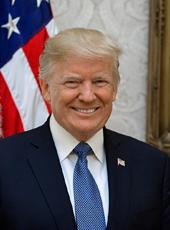 Trump Campaign Statement on President Trump's Vision for Healthcare
"President Trump has a better record on healthcare than Joe Biden no matter how you look at it. Health insurance premiums went up under Joe Biden, they have come down under President Trump. The President will protect people with pre-existing conditions, end surprise billing, drive down prescription drug prices, help seniors pay for medicine, and provide affordable insulin and EpiPens for low-income Americans. This builds on his record of success in healthcare, which includes reducing Obamacare premiums for the first time, eliminating the unfair Obamacare individual mandate, expanding healthcare choice, enacting Right to Try legislation, and making real progress in reducing the price of prescription drugs. The President has improved healthcare quality, provided greater choice, and made it more affordable.
"The fact that Joe Biden even has a healthcare proposal is proof that Obamacare was a colossal failure from the beginning. Premiums went through the roof, choices dwindled, and people suffered under the twin lies that they could keep their doctors and their existing healthcare plans. Biden's new proposal would lead to a government takeover of the entire healthcare system and would end with the elimination of employer-provided health insurance for 180 million Americans. He would threaten 1,000 rural hospitals with bankruptcy, leaving millions of Americans without a place to go for serious healthcare needs. Finally, he would provide illegal aliens with taxpayer-funded healthcare, again placing the interests of people who broke our immigration laws ahead of our own citizens. Joe Biden is selling socialized healthcare and Americans won't buy it."
- Tim Murtaugh, Trump 2020 communications director
Donald J. Trump, Trump Campaign Statement on President Trump's Vision for Healthcare Online by Gerhard Peters and John T. Woolley, The American Presidency Project https://www.presidency.ucsb.edu/node/345491