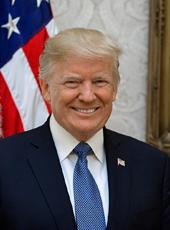 Trump Campaign Press Release - Veterans for Trump Online: President Trump Stands Proudly with the Military, Joe Biden Abandons Our Nation's Heroes
Donald J. Trump for President, Inc. hosted 'Veterans for Trump Online!' featuring Trump 2020 National Press Secretary Hogan Gidley, Veterans for Trump Advisory Board Member Chad Robichaux, and Gold Star Mother to US Navy SEAL Aaron Vaughn Karen Vaughn.
The panel discussed Joe Biden's many failures as vice president, noting in particular his negligent decisions which placed countless brave U.S. military members in danger. In stark contrast, they highlighted President Trump's respect and admiration for the military community, as well as his proven record as the President of law and order. From revitalizing our armed forces to spearheading the PREVENTS initiative, President Trump has shown his steadfast support for the patriots on the front lines. As a veteran himself, Chad Robichaux provided insight on the President's pro-military agenda, while Karen Vaughn shared the tragic story of her son Aaron's death, which was the direct result of the Obama-Biden administration leaks, resulting in the downing of Extortion 17. While President Trump understands our freedom comes at the cost of the sacrifices made by military service members, Joe Biden and the radical left have a history of deliberately endangering our armed forces for political gain and have turned their back on our nation's heroes and veterans.

"President Trump fiercely protects the men and women who put their lives on the line to fight for our freedom, and has ensured they receive the care and resources they need when they return home," said Hogan Gidley, Trump 2020 National Press Secretary. "Not only did Joe Biden spend his vice presidency weakening our country's lines of defense and ignoring our brave military members, he has now publicly announced his plan to destroy national security and defund the heroes actively protecting the American people here at home."
"Under the Obama-Biden Administration, our military was depleted and our veterans were ignored while Joe Biden went on a worldwide apology tour. Far too many service-members died because of Joe Biden's callous disregard," said Chad Robichaux, Veterans for Trump Advisory Board Member. "The military community needs another four years of President Trump or we will once again suffer under the leadership of Joe Biden who is more concerned with his image around the world than the lives of military warriors and their families."
"My son's legacy is a reminder that all service men and women must be valued and protected by their Commander in Chief. Joe Biden put a target on my child's back, and my son payed the ultimate sacrifice for Joe Biden's indefensible actions as vice president," said Karen Vaughn, Gold Star Mother to US Navy SEAL Aaron Vaughn. "President Trump loves America, shares our American values, and will always defend our troops. This November, the choice remains clear: President Trump respects those who serve and stands up for law and order, while Joe Biden promotes anarchy and relentlessly betrays our brave soldiers for political gain."
Donald J. Trump, Trump Campaign Press Release - Veterans for Trump Online: President Trump Stands Proudly with the Military, Joe Biden Abandons Our Nation's Heroes Online by Gerhard Peters and John T. Woolley, The American Presidency Project https://www.presidency.ucsb.edu/node/345736