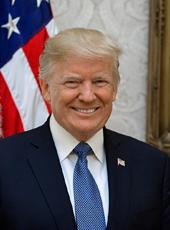 Trump Campaign Press Release - Trump Campaign Previews Thursday Speakers for Historic Republican National Convention
Donald J. Trump for President, Inc. released the list of Thursday's speakers for this week's historic Republican National Convention. Tonight's theme, "Land of Greatness," will honor America's long history of greatness, how President Trump restored that greatness, and how he will keep it going despite Democrats' attacks. Tonight's speakers are listed in the order they are expected to appear. President Trump will deliver closing remarks.
Franklin Graham
Franklin Graham is the President and CEO of Billy Graham Evangelistic Association and the international Christian relief and evangelism organization Samaritan's Purse. As a speaker and author, Franklin regularly addresses current moral and social issues, calling Christians to stand for Biblical values and challenging them to make a difference in the world for the sake of the Gospel.
House Republican Leader Kevin McCarthy (CA-23)
Congressman Kevin McCarthy proudly serves California's 23rd district and is currently the Republican Leader in the U.S. House of Representatives. Kevin was first elected to Congress in 2006, and in 2014, he was elected Republican Leader in the House, where he now leads Congress in fighting for individual liberty, an efficient and effective government, free markets, and a vibrant civil society. When Kevin is not in Washington working for the constituents of California's 23rd District and for the future of America, he is home in Bakersfield with his wife Judy and two children, Connor and Meghan.
The Honorable Ja'Ron Smith
Ja'Ron Smith is a native of Cleveland, Ohio and a proud graduate of Howard University. Ja'Ron began his career interning for Representative J.C. Watts, later working for Senator Tim Scott and Representative Mike Pence before taking his current position.
Representative Jeff Van Drew (NJ-02)
On November 6th, 2018, constituents in New Jersey's Second Congressional District elected Jeff Van Drew to represent them in the United States House of Representatives. He has earned a reputation as a strong advocate for southern New Jersey municipalities, but especially for veterans, senior citizens, and consumers. One of Van Drew's most notable moments -- bringing him to the forefront of the national stage -- was when he switched political parties after witnessing Democrats' partisan impeachment process against President Donald Trump. Jeff Van Drew has always demonstrated a willingness to work on a bipartisan basis and will continue addressing issues of vital concern to the residents of his district.
Wade Mayfield
Wade D. Mayfield is the President of Thermal Services in Omaha, NE. He started at Thermal Services in September of 2000 as a sheet metal apprentice, but moved swiftly up the ladder, first as a maintenance technician, next as a service manager, then on upward as the Vice President of Operations. In 2006, he took over as President and still serves in that capacity today.
Stacia Brightmon
Stacia Brightmon is a Marine Corp veteran from Houston, Texas and a single mother of two boys. Following her career in the Marine Corp, Stacia found herself unemployed working several day-to-day jobs to make ends meet. In search of a more steady career, Stacia joined an "earn-while-you-learn" apprenticeship program for women and military veterans. Stacia went from unemployed to earning $16 an hour during the intensive 4-month apprenticeship training program. And on graduation, then certified as a pipefitter assistant, she was guaranteed full-time employment, earning $28 an hour.
The Honorable Dan Scavino
Before his current role, Dan Scavino served on President Trump's 2016 election campaign as the Social Media Director. Dan first met President Trump while working as a caddie in 1992. He graduated from the State University of New York at Plattsburgh where he earned his degree in communications.
Senate Majority Leader Mitch McConnell (R-KY)
Mitch McConnell has served as the Senate Majority Leader since the 110th Congress, making him the longest-serving Senate Republican Leader in the history of the United States. First elected to the Senate in 1984, McConnell is Kentucky's longest-serving senator, and is commonly referred to as "the most conservative leader of either party in the history of the Senate." Majority Leader McConnell is the proud husband of Secretary Elaine L. Chao, the 18th U.S. Secretary of Transportation.
Dana White
Dana White is the President of the Ultimate Fighting Championship, which is the largest mixed martial arts organization in the world. He is also an American businessman.
Utah Attorney General Sean Reyes
Attorney General Sean Reyes has served as Utah's 21st Attorney General and the state's top law enforcement officer since 2013. He graduated summa cum laude from Brigham Young University and earned his law degree with honors from U.C. Berkeley. Attorney General Reyes litigated and tried cases for nearly 14 years at a prominent Utah law firm, representing global clients including many from the technology sector. Later, he served as General Counsel for a technology and media company based in Utah's Silicon Slopes and was a partner in a venture fund helping to invest in and run various technology businesses.
Debbie Flood
Debbie Flood is the President and second-generation owner of Melron Corporation in Wisconsin, which focuses on manufacturing and steel production. After inheriting the business from her father, Debbie expanded the facility, modernized their technology, and enabled the company to compete in a rapidly changing market.
Ann Dorn
Ann's husband, David Dorn, a former police captain, was cruelly murdered defending a friend's store during the St. Louis riots. She will speak directly to the horrible pain caused by Democrats' policies and highlight how President Trump stood up for public safety.
The Honorable Ben Carson
Secretary Ben Carson currently serves as the Secretary of the United States Department of Housing and Urban Development. For nearly 30 years, Dr. Carson served as Director of Pediatric Neurosurgery at the Johns Hopkins Children's Center, a position he assumed when he was just 33 years old, becoming the youngest major division director in the hospital's history. Dr. Carson received dozens of honors and awards in recognition of his achievements including the Presidential Medal of Freedom, the nation's highest civilian honor.
Rudy Giuliani
Rudy Giuliani was the Mayor of New York City from 1994 to 2001 and was known as "America's mayor" following the 9/11 terrorist attacks. Throughout his mayorship, and during his tenure as a U.S. Associate Attorney General and U.S. Attorney for the Southern District of New York, he was known for his toughness on crime and leading New York City's civic cleanup. In 2018, Rudy Giuliani joined President Trump's personal legal team to aid in the defense during the special counsel investigation.
Patrick Lynch
Patrick Lynch is the President of the Police Benevolent Association of the City of New York. Lynch worked for a short time as a New York City Subway conductor, but on January 4, 1984, he became a police officer with the New York City Police Department. He is married to Kathleen Casey, and has two sons, both of whom are New York City police officers.
Senator Tom Cotton (R-AR)
Tom Cotton is a United States Senator from Arkansas. Senator Cotton served nearly five years on active duty in the United States Army as an Infantry Officer. Tom served in Iraq with the 101st Airborne and in Afghanistan with a Provincial Reconstruction Team. Tom's military decorations include the Bronze Star Medal, Combat Infantry Badge, and Ranger Tab. Between the Army and the Senate, Tom served one term in the House of Representatives.
Carl and Marsha Mueller
Carl and Marsha Mueller are the parents of Kayla Jean Mueller, the 26-year-old Humanitarian worker killed by ISIS. Marsha worked as a Registered Nurse in diagnostic Cardiology for 30 years until 2000, retiring from nursing to raise their two children and assist Carl with their auto body repair business. Carl operated Preferred Auto Body in Prescott, Arizona for 32 years. They now work full time on finding the truth of Kayla's captivity, promoting her belief in peace and justice with compassion by telling Kayla's story of her short life's work, and building the Kayla's Hands Foundation.
Alice Johnson
Alice Johnson is a criminal justice reform advocate and former federal prisoner who has become a major supporter of President Trump's criminal justice reform legislation.
The Honorable Ivanka Trump
Before her current role, Ivanka Trump oversaw development and acquisitions at the Trump Organization alongside her brothers Donald Jr. and Eric. Ivanka graduated from the Wharton School of Business at the University of Pennsylvania in 2004. Ivanka and her husband, Jared Kushner, live in Washington, D.C. and have three young children, Arabella, Joseph, and Theodore.
Donald J. Trump, Trump Campaign Press Release - Trump Campaign Previews Thursday Speakers for Historic Republican National Convention Online by Gerhard Peters and John T. Woolley, The American Presidency Project https://www.presidency.ucsb.edu/node/345618