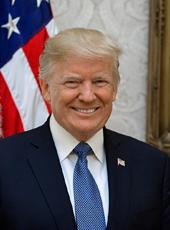 Trump Campaign Press Release - Trump Campaign Launches New Spanish Language Ad Contrasting President Trump's Achievements for Puerto Rico with Joe Biden's Record of Failure
(En español a continuación)
Donald J. Trump for President, Inc. announced today the launch of a new Spanish language TV ad titled "Reconstruyendo" (Rebuilding), which highlights how Joe Biden has failed Puerto Rico.
As the ad explains, Joe Biden's bad policies have devastated the island's economy and sent key industries to China. Meanwhile, President Trump has delivered record investments in Puerto Rico's infrastructure as he fights to bring back the pharmaceutical industry to the island.
"Like a typical politician, Joe Biden pretends to care about Boricuas when he needs our votes, but during his five decades in Washington he never did anything for us except vote to eliminate Section 936, which collapsed our economy," said Latinos for Trump Advisory Board member Juan Carlos Benitez.
Benitez added: "Thousands of Puerto Ricans lost their jobs and our top industries were sent to China thanks to Biden's failed policies. President Trump is cleaning up the mess that Biden left behind with historic investments in the island's schools, electrical grid, and infrastructure while he works to bring back the pharmaceutical industry. The only thing that Joe Biden has to offer Puerto Ricans are higher taxes and weakness on crime."
The ad will run in television in Florida, digitally in key areas, and in select Puerto Rican media.
CLICK HERE TO WATCH "RECONSTRUYENDO"
- 22 de septiembre de 2020 -
La campaña Trump lanza un anuncio nuevo en español que contrasta los logros del presidente Trump para Puerto Rico con el historial de fracasos de Joe Biden
Donald J. Trump para Presidente, Inc. lanzó hoy un nuevo anuncio en español, titulado "Reconstruyendo", que destaca cómo Joe Biden le ha fallado a Puerto Rico.
"Reconstruyendo" describe cómo las malas política de Joe Biden han devastado la economía de la isla y enviado industrias principales a China. Mientras tanto, el Presidente Trump ha realizado inversiones récord en la infraestructura de Puerto Rico y lucha por traer de vuelta a la isla la industria farmacéutica.
"Como buen politiquero, Joe Biden hace el aguaje de preocuparse por los boricuas cuando necesita nuestros votos pero durante sus cinco décadas en Washington jamás hizo nada por nosotros excepto votar por la eliminación de la Sección 936, lo cual colapso nuestra economía", señalo Juan Carlos Benitez, miembro de la Junta de Asesores de Latinos for Trump.
Benítez añadió: "Miles de puertorriqueños perdieron sus trabajos y nuestras industrias se fueron para la China gracias a las políticas fallidas de Biden. El presidente Trump está limpiando los desastres de Biden con inversiones históricas en las escuelas, red eléctrica e infraestructura de la isla mientras regresa las farmacéuticas a Puerto Rico. Lo único que Biden le ofrece a los puertorriqueños son aumentos de impuestos y mano floja con la criminalidad".
El anuncio se emitirá en la televisión de Florida, digitalmente en áreas clave y en medios de comunicación seleccionados de Puerto Rico.
Donald J. Trump, Trump Campaign Press Release - Trump Campaign Launches New Spanish Language Ad Contrasting President Trump's Achievements for Puerto Rico with Joe Biden's Record of Failure Online by Gerhard Peters and John T. Woolley, The American Presidency Project https://www.presidency.ucsb.edu/node/345494