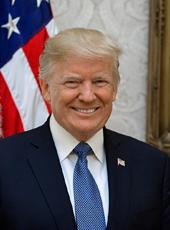 Trump Campaign Press Release - Top Nevada Business Associations Endorse President Trump
President Trump is leading the Great American Comeback through his pro-growth agenda of low taxes, regulatory reform, and America First trade deals. In contrast, Joe Biden threatens America's economic recovery by embracing the socialist policies of the radical left. Today, top Nevada business associations endorsed President Trump and his strong plans to renew, restore, and rebuild the American economy:
"President Trump has stood with truckers like few presidents before him by delivering historic economic growth, implementing common sense hours of service rules that enhance the safety and flexibility of our truck drivers and providing them with PPE at the height of the pandemic. While Joe Biden wants to destroy the ability of independent contractors and owner operator drivers to achieve the American dream of working for themselves, President Trump will always defend the hardworking men and women who keep our country moving. The trucking industry, which has trained almost a million drivers to recognize signs of human trafficking strongly endorses the President's efforts and commends his Administration's successes in combating this evil," said Paul J. Enos CEO of the Nevada Trucking Association.
"StartUpNV's role is to support Nevada entrepreneurs and the entrepreneurial ecosystem. We are grateful to the President and this administration for their quick action in putting small business owners and American companies first. Getting our economy back on track is integral to our country's survival and continued growth. Now is the time for private sector to come off the sidelines, stand up for our communities and support a results-driven approach that does not hinder American entrepreneurship." said Lisa Song Sutton of StartUpNV.
"Under President Trump's leadership, our members have benefitted from historic workforce development initiatives and endless opportunities to grow their businesses, large and small. The Trump Administration's Pledge to America's Workers has provided more high-quality jobs in our line of work, while allowing our members and their employees to gain useful skills and knowledge. President Trump is on a mission to provide everyone in this country with the opportunity to secure the American Dream, and for that reason the Associated Builders and Contractors need four more years of this Jobs President," said Mac Bybee, President and CEO of the Associated Builders and Contractors.
"President Donald J. Trump has successfully led the Great American Comeback and navigated our economy through the worst of the Covid-19 shutdown. The American people deserve four more years of President Trump's strong leadership, and the Retail Association of Nevada will be with him every step of the way," said Mary Lau, President & CEO of the Retail Association of Nevada.
Donald J. Trump, Trump Campaign Press Release - Top Nevada Business Associations Endorse President Trump Online by Gerhard Peters and John T. Woolley, The American Presidency Project https://www.presidency.ucsb.edu/node/346885