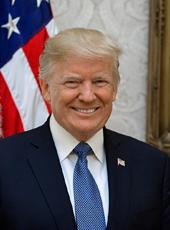 Trump Campaign Press Release - Top 5 Must-Watch Moments from the First Presidential Debate
President Trump showcased his strength as Joe Biden's weakness was on full display.
Tonight, the American people witnessed President Trump deliver a strong, focused debate performance—a stark contrast from Joe Biden's weakness on virtually every issue. Here are the top five must-watch moments from tonight's debate:
Joe Biden refused to answer a question on whether or not he would pack the Supreme Court. "Whatever position I take on that, that will become the issue," Biden said.
President Trump hammered Joe Biden for saying he would shut down America's economy again. Democrats "think they're hurting us by keeping them [their states and cities] closed. They're hurting people ... Our country is coming back incredibly well, setting records as it does it—we don't need somebody to come in and say, 'Let's shut it down.'"
Joe Biden has not called a single elected Democrat leader to urge them to restore law and order and public safety to their streets. When asked why, Biden responded weakly: "I don't hold public office."
Joe Biden could not name a single law enforcement group that supports him. "He's talking about defunding the police. He has no law enforcement support," President Trump said.
President Trump is cutting the cost of prescription drugs. Joe Biden could've done this during his 47 years in government, but he didn't.
Donald J. Trump, Trump Campaign Press Release - Top 5 Must-Watch Moments from the First Presidential Debate Online by Gerhard Peters and John T. Woolley, The American Presidency Project https://www.presidency.ucsb.edu/node/344006