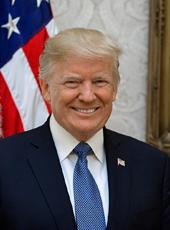 Trump Campaign Press Release - The Right View: Joe Biden Will Prioritize His Radical Agenda Over the American People
Following the historic Republican National Convention (RNC), which raised $76 million and drew in nearly 148 million viewers, it is evident the enthusiasm for President Donald J. Trump is growing stronger by the day. During the RNC, President Trump detailed his "Fighting for You!" second term agenda and reaffirmed his commitment to fight for American people each and every day. Meanwhile, Joe Biden has failed to condemn the violent mobs terrorizing Democrat-run cities, abandoned our brave law enforcement officers, and placed the safety of the American people second to his radical, dangerous base.
Cissie Graham Lynch discussed all this and more on tonight's 'The Right View,' hosted by Trump 2020 Senior Advisor Lara Trump, National Chair of Trump Victory Finance Committee Kimberly Guilfoyle, and Trump 2020 Senior Advisor for Strategic Communications Mercedes Schlapp.

"During Joe Biden's vice presidency, the floodgates were open to religious persecution and people of faith were attacked for expressing their constitutional right," said Cissie Graham Lynch. "President Trump fiercely protects our right to religious freedom and we must re-elect this President so he can continue to fight for all Americans through his second term agenda."
"The American people deserve a leader that will stand up to the left-wing radicals scheming to fundamentally change our country, and they have one in President Trump,"said Lara Trump, Trump 2020 Senior Advisor. "Unlike Joe Biden who has bowed down to the extreme socialists in his party, President Trump has made it clear that he will always fight for the American people."
"Joe Biden and the Democrat's flagrant disdain for America was put on full display during their gloomy convention, and the American people saw them for what they truly are - career politicians looking to push a radical agenda," said Kimberly Guilfoyle, National Chair of Trump Victory Finance Committee. "This is the most important election of our lifetimes, and we need to fight to re-elect the President for the sake of this great nation."
"President Trump sent a strong, clear message during his RNC acceptance speech - he will always put the American people first, regardless of the constant attacks he faces from the far-left," said Mercedes Schlapp, Trump 2020 Senior Advisor for Strategic Communications. "The inspirational stories we heard at the RNC uplifted the country and reminded the American people that while Joe Biden and the Democrats paint a doom and gloom picture of America, President Trump believes in this nation and will never stop fighting for us."
Donald J. Trump, Trump Campaign Press Release - The Right View: Joe Biden Will Prioritize His Radical Agenda Over the American People Online by Gerhard Peters and John T. Woolley, The American Presidency Project https://www.presidency.ucsb.edu/node/345515