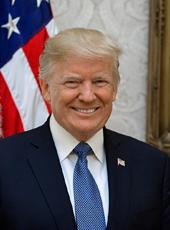 Trump Campaign Press Release - 'Team Trump Online': Joe Biden is Banking on Voter Fraud and Chaos in November
Joe Biden and the Democrat party are desperately fighting for universal mail-in voting as a last minute ploy to cheat the American people out of their Constitutional right to have their vote counted. While the radical left rushes to fundamentally change the way Americans vote three months before a general election, President Trump is committed to ensuring voter safety and preserving the integrity of our elections. Tonight's 'Team Trump Online' with Trump 2020 Senior Advisor Lara Trump and Trump 2020 Deputy Campaign Manager Justin Clark explains the serious dangers of universal mail-in voting, in which election offices blindly send out mail ballots without safeguards in place. They also highlight the importance of traditional absentee voting, which allows voters who are truly unable to go to the polls to request an absentee ballot through a tried and true system. President Trump is committed to ensuring every voter's ballot counts—and counts exactly once.

"Democrats are panicking because they recognize that Joe Biden is a deeply flawed candidate running an unenthusiastic campaign. The radical left is constructing a plan to cheat the American people with mass ballot harvesting and universal vote-by-mail," said Lara Trump, Trump 2020 Senior Advisor. "Now more than ever, it is imperative for people across the country to work overtime to re-elect President Trump and preserve our democracy."
"Voting in person is inherently more safe and more secure than voting by mail. Now again, as the president said, we are all for absentee voting, so is he. It's a system that works, it's a system that these local governments are designed to uphold," said Justin Clark, Trump 2020 Deputy Campaign Manager. "When you flood the zone with ballots, what you're trying to do is undermine the results of the election by projecting election results that don't necessarily reflect the will of the people. The American people need to have certainty in the outcome of their election and universal vote by mail calls that into question.
Donald J. Trump, Trump Campaign Press Release - 'Team Trump Online': Joe Biden is Banking on Voter Fraud and Chaos in November Online by Gerhard Peters and John T. Woolley, The American Presidency Project https://www.presidency.ucsb.edu/node/345624