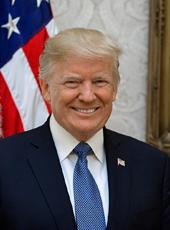 Trump Campaign Press Release - Sarah Palin Backs Donald Trump's 2016 Bid
Sarah Palin, the former Alaska governor and 2008 GOP vice presidential candidate, is officially endorsing businessman Donald Trump's 2016 bid for the White House.
"We are ready for a change," Palin said at a Trump rally in Ames, Iowa, with the candidate by her side. "We are ready, and our troops deserve the best -- a new commander in chief whose track record has proven he is a master at the art of the deal."
She added, "He is beholden to no one but we the people -- how refreshing."
Trump said in a statement that Palin "is a friend, and a high quality person whom I have great respect for. I am proud to have her support."
Palin is one of the most high-profile Republicans yet to endorse a 2016 candidate, giving the current GOP front runner more momentum in the final two weeks before the Iowa caucuses. After joining Trump in Ames, Iowa on Tuesday, she will travel with him to his two campaign events on Wednesday, in Norwalk, Iowa and Tulsa, Oklahoma.
In a press release, Trump's campaign touted the endorsement as "coveted and influential." The campaign called her "a trusted conservative" and credited her with helping to launch the career of several "key future leaders of the Republican Party" -- including Trump's biggest rival for the GOP nomination, Sen. Ted Cruz. The press release quotes Cruz, who said, "I would not be in the United States Senate were it not for Gov. Sarah Palin... She can pick winners."
Earlier, Cruz campaign spokesman Rick Tyler told CNN that if Palin endorses Trump, it would be a "blow" to her reputation because, he said, Trump has held progressive views throughout his life.
That prompted Palin's daughter Bristol Palin to slam the Texas senator in a blog post titled "Is THIS Why People Don't Like Cruz?"
On the campaign trail in New Hampshire on Tuesday, Cruz tried to diffuse the situation. "Oh listen, I love Sarah Palin, Sarah Palin is fantastic," he said. "Without her friendship and support, I wouldn't be in the Senate today, and so regardless of what Sarah decides to do in 2016, I will always remain a big, big fan of Sarah Palin's."
Donald J. Trump, Trump Campaign Press Release - Sarah Palin Backs Donald Trump's 2016 Bid Online by Gerhard Peters and John T. Woolley, The American Presidency Project https://www.presidency.ucsb.edu/node/313960