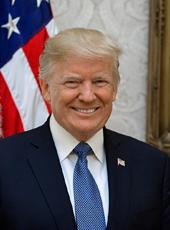 Trump Campaign Press Release - Pressed By Jake Tapper, Joe Biden Fails to Take Responsibility for Supporting NAFTA
Biden lied about his NAFTA support, which killed 850,000 American jobs.
Biden has no good answer for his decades-long record of supporting terrible trade policies that closed American factories and shipped jobs overseas. He's said he's "proud" of his vote for NAFTA – despite the hundreds of thousands of jobs lost – and has never apologized for cheerleading for China to receive most favored nation trade status and join the World Trade Organization.
When CNN's Jake Tapper pressed him on his support for NAFTA during an interview today, poor Joe Biden fell apart like a house of cheap made-in-China cards:
Biden refused to take responsibility for supporting and voting for NAFTA. Instead, he falsely claimed he opposed it and blamed President Bush. "That's why, after it passed...I was against NAFTA," Biden falsely and bizarrely claimed, ignoring his long history of defending NAFTA. As late as 2007, Biden was defending his vote for NAFTA, saying it did not "aggrieve" him and that NAFTA "wasn't the problem." Even last year, Biden was still saying he was "proud" of his record on trade.

Biden refused to take responsibility for failing to keep his promise to renegotiate NAFTA when he was Vice President. "[Trump] renegotiated NAFTA and you didn't," Tapper told Biden after he offered a series of excuses as to why he didn't keep his promise. Biden falsely claimed that it was Republicans who stopped him from doing so, despite fact that the Obama-Biden Administration announced in April 2009 – when Democrats controlled Congress – that they would not even try to renegotiate NAFTA.
Biden likes to say he won't lie to the American people, and that he will always accept responsibility for his actions. That's malarkey.NAFTA has Biden's fingerprints all over it, and every job lost or factory shut down due to failed trade policies can be directly traced back to Biden's poor judgement. All Biden is offering voters are poor excuses and lies.
While voters in Michigan, Wisconsin, Ohio, Minnesota, and Pennsylvania can see right through Biden weakness and failure, they know President Trump is their champion. He made a promise to renegotiate NAFTA, and unlike Joe Biden, he actually did it.
Donald J. Trump, Trump Campaign Press Release - Pressed By Jake Tapper, Joe Biden Fails to Take Responsibility for Supporting NAFTA Online by Gerhard Peters and John T. Woolley, The American Presidency Project https://www.presidency.ucsb.edu/node/345557