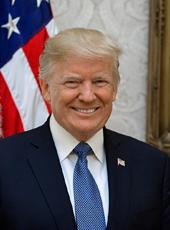 Trump Campaign Press Release - President Trump Releases List of Prospective Supreme Court Nominees, Biden Must Do the Same
President Donald J. Trump today released a list of twenty additional names he will consider nominating as U.S. Supreme Court justices should vacancies occur on the high court in the coming months or in a second term. President Trump released a similar well-received list during the 2016 campaign because voters deserve a clear understanding of a candidate's vision of the direction of the Supreme Court. With the President's list of candidates now public, the Trump campaign called on Joe Biden to do the same and release his own list of prospective nominees.
"President Trump has a stellar record of appointing more than 200 solid, conservative federal judges, including two strong Supreme Court justices, and will likely get to 300 judges by the end of his first term," said Bill Stepien, Trump 2020 campaign manager. "Voters deserve transparency and a clear view of what direction candidates for president would take our federal courts. We now forcefully demand that Joe Biden do the same."
"We must have justices who apply the Constitution and not make their own policies on so many important issues. That's why it's key that President Trump has released this list, because voters deserve the clarity and transparency of exactly where the priorities will be," said Jay Sekulow, counselor to President Trump. "It is imperative that Joe Biden follow the President's lead and release his own list and tell Americans where he stands, and what kind of justices he will pick."
The next president may have the opportunity to nominate multiple justices to the Supreme Court. Joe Biden must declare what kind of judges he would select, as the nation will face key questions on fundamental issues of immense importance in the coming years.
Will Joe Biden's Supreme Court nominees:
Protect life, or side with the abortion lobby?
Protect religious liberty, or force nuns to pay for birth control?
Protect the 2nd Amendment, or forcibly remove the rights of law-abiding people to defend themselves and their families?
Protect law-abiding citizens and stand with police, or coddle criminals?
Protect our borders, our communities, and America workers, or create new rights for illegal aliens?
Protect taxpayers, or force people to buy products they do not want, like health insurance?
Protect American entrepreneurs and individuals, or side with government regulators who spit out miles of red tape that strangles freedom, growth, and innovation?
"President Trump has been the best president the pro-life movement has ever had, and we are again thrilled to see his list of potential Supreme Court selections. A nation can be measured by how it protects the most vulnerable, and a Supreme Court which protects the unborn is of paramount importance," said Christina Bennett, Co-Chair of Pro-Life Voices for Trump. "We know that Joe Biden would select activist judges who bow to the wishes of the abortion industry. For this and many other reasons, President Trump is the obvious choice in November."
"The Founders of our nation thought so much of the right of people to defend themselves that they enshrined it in our Constitution. President Trump has always stood for the 2nd Amendment and his judicial selections will reflect that view," said Linda Walker, Gun Owners for Trump Advisory Board Member. "We know that the forces who control Joe Biden will attack those rights and leave Americans defenseless. On 2nd Amendment rights, Supreme Court justices are extremely important, and President Trump has our back."
"The 1st Amendment guarantees freedom of religion, but it does not require there be freedom from religion. People must have the right to worship according to their own beliefs, and President Trump has been a true champion of those freedoms," said Congressman Tim Huelskamp, Catholics for Trump Advisory Board Member. "Now more than ever, with the unrelenting onslaught of the left, we must have Supreme Court justices who understand that people are born with the right to practice religion in their lives. Joe Biden and his leftist allies stand against those rights and cannot be allowed to appoint liberal activist judges to the court."
"This list reflects President Trump's commitment to the American people to promote judges who respect our national sovereignty and upholds the President's right to defend our borders," said Justin Clark, Trump 2020 deputy campaign manager. "These names reflect President Trump's deep commitment to protecting our constitutional rights - especially our 2nd Amendment rights which are under assault from the Biden-Harris wing of the Democrat party."
"In only four years President Trump has transformed the federal judiciary, and this list again demonstrates his commitment to those who want confidence that the Supreme Court will uphold our God-given liberties," said Matt Morgan, Trump 2020 general counsel. "The President is doubling down on his pledge to appoint justices who demonstrate a faithful commitment to the Constitution and the rule of law, thereby ensuring proper limits on the size of government and ending regulatory overreach."
"President Trump's list of Supreme Court nominees shows once again his firm commitment to protecting our fundamental rights, including religious freedom and the right to life for every precious unborn child. Originalist judges are necessary to protect and preserve our constitutional republic, built on the truthful recognition that our rights are God-given, not government-given," said Jenna Ellis, Trump 2020 legal advisor. "President Trump has fulfilled his promise to appoint originalist judges who are the guardians of our rights and freedoms for the next half century of American jurisprudence. Joe Biden would fill the bench with activists and socialists who would give government increasing power and trample our rights. We must re-elect President Trump to continue safeguarding our rights, especially on the High Court."
President Trump's Additional Supreme Court Candidates
Bridget Bade, Judge on the U.S. Court of Appeals for the Ninth Circuit
Daniel Cameron, 51st Attorney General of the Commonwealth of Kentucky
Tom Cotton, U.S. Senator from Arkansas
Paul Clement, partner with Kirkland & Ellis LLP
Ted Cruz, U.S. Senator from Texas
Stuart Kyle Duncan, Judge on the U.S. Court of Appeals for the Fifth Circuit
Steven Engel, Assistant Attorney General for the Office of Legal Counsel of the U.S. Department of Justice
Noel Francisco, former Solicitor General of the United States
Josh Hawley, U.S. Senator from Missouri
James Ho, Judge on the U.S. Court of Appeals for the Fifth Circuit
Gregory Katsas, Judge on the U.S. Court of Appeals for the District of Columbia Circuit
Barbara Lagoa, Judge on the U.S. Court of Appeals for the Eleventh Circuit
Christopher Landau, Ambassador Extraordinary and Plenipotentiary of the United States of America to the United Mexican States
Carlos Muñiz, Justice on the Supreme Court of Florida
Martha Pacold, Judge on the U.S. District Court for the Northern District of Illinois
Peter Phipps, Judge on the U.S. Court of Appeals for the Third Circuit
Sarah Pitlyk, Judge on the U.S. District Court for the Eastern District of Missouri
Allison Jones Rushing, Judge on the U.S. Court of Appeals for the Fourth Circuit
Kate Todd, Deputy Assistant to the President and Deputy Counsel to the President
Lawrence VanDyke, Judge on the U.S. Court of Appeals for the Ninth Circuit
Donald J. Trump, Trump Campaign Press Release - President Trump Releases List of Prospective Supreme Court Nominees, Biden Must Do the Same Online by Gerhard Peters and John T. Woolley, The American Presidency Project https://www.presidency.ucsb.edu/node/344027