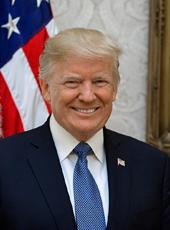 Trump Campaign Press Release - President Trump is Putting American Workers First
Joe Biden has always put China first.
There has never been a President who has cared so much about the hardworking men and women of America. Every day, President Trump keeps his promise to fight for them. And despite China unleashing a deadly virus on the world, President Trump is rebuilding and restoring America's economy and delivering real results once again.
President Trump is building a more inclusive economy for workers of all income levels, and getting Americans back to work at record speed:
The Trump Administration's tax cuts delivered $2,000 in tax savings to the average family of four. The historic law reduced taxes across all income levels and brought American jobs back from overseas.
Before the artificial interruption to our economy from the China virus, wages for typical workers were rising at their fastest rate in a decade. Wages for the bottom quarter of workers were outpacing gains for high-income workers.
The Trump Administration's Paycheck Protection Program saved more than 51 million American jobs during the coronavirus pandemic.
President Trump's Great American Comeback is adding back jobs at record speed and beating expectations. August unemployment hit 8.4%, despite the Federal Reserve predicting that unemployment would still be at 9.3% by the end of 2020.
Under the Obama-Biden Administration, it took nearly three years to get the unemployment rate under 8.5%. President Trump did it in under 4 months.
President Trump kept his promise to negotiate America First trade deals that put American workers first:
President Trump's United States-Mexico-Canada Agreement (USMCA) is expected to create 176,000 new jobs and grow the U.S. economy by up to $235 billion.
The USMCA will boost manufacturers in every state, and the International Trade Commission predicted American manufacturing would experience "the largest percentage gains" in higher wages, new jobs, and greater exports out of any industry thanks to the USMCA.
President Trump is standing up to China's unfair trade practices. He successfully used tariffs to persuade China to sign a Phase One Trade Agreement that secured significant protections for American workers and businesses.
The Trump Administration is supporting American workers in every way possible:
The Trump Administration established the National Council for the America Worker to develop a strategy for training and retraining the workers needed across high-demand industries. The council pledged to "expand programs that educate, train, and reskill American workers."
More than 430 companies and organizations have signed President Trump's Pledge to America's Workers, contributing to over 16 million new education and training opportunities for students and workers.
President Trump is expanding apprenticeships, education, and workforce development programs in America.
The Trump Administration established the American Workforce Policy Advisory Board to provide advise to the National Council for the American Worker and improve skills-based hiring and training.
Donald J. Trump, Trump Campaign Press Release - President Trump is Putting American Workers First Online by Gerhard Peters and John T. Woolley, The American Presidency Project https://www.presidency.ucsb.edu/node/344037