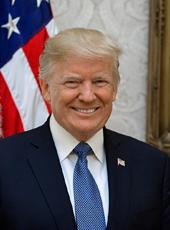 Trump Campaign Press Release - President Trump Pursues an America First Trade Agenda While Biden Continues to Sell Out America's Workers
As President Trump's strong USMCA trade deal begins to take effect, undoing candidate Biden's disastrous NAFTA deal, the stark contrast between the President's America First agenda and Joe Biden's failed globalism could not be clearer. While President Trump continues to fight for our nation's workers and manufacturers, Biden promises to sell out the American people to our adversaries and hollow out our economy. The American people deserve a fighter in the White House like President Trump, not a lifelong politician like candidate Biden who would continue to prop up foreign countries at the expense of the American people.
Earlier today, Donald J. Trump for President Inc. hosted a press briefing call with Senator Tom Cotton (R-AR) and Former Acting White House Chief of Staff Mick Mulvaney on the President's strong record on trade ahead of President Trump's meeting with Mexican President Andrés Manuel López Obrador. As the speakers confirmed, only President Trump will stand up for the American people and refuse to allow foreign countries to take advantage of us.
"For four decades, Joe Biden has been shipping jobs overseas, shipping factories overseas - not to friendly nations, but to China, our number one adversary in the world," said Senator Tom Cotton (R-AR) "He voted for and led the effort to give China 'most favored nation' status in the 1990s. As a result, more than three million American jobs were lost, including one million jobs in manufacturing."
"I live in South Carolina now, an area that was absolutely devastated by NAFTA. I think it was 80% of the people in my county used to work in the textile business and almost every single one of them was unemployed in the years after NAFTA," said Former Acting White House Chief of Staff Mick Mulvaney. "Joe Biden took a lot of credit, still does I think, for passing NAFTA in the Senate - versus what the President has done, for example with the USMCA. ... You're talking about a bill that instead of putting people out of work like NAFTA did is going to end up employing hundreds of thousands and adding a couple of tenths of a percentage point to the GDP forever."
Donald J. Trump, Trump Campaign Press Release - President Trump Pursues an America First Trade Agenda While Biden Continues to Sell Out America's Workers Online by Gerhard Peters and John T. Woolley, The American Presidency Project https://www.presidency.ucsb.edu/node/345218