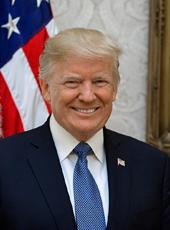 Trump Campaign Press Release - President Trump is Fighting for New Hampshire Workers and Families
He is making the economy great again!
As President Trump rallies with supporters in Londonderry, the evidence shows his whole-of-government response to the coronavirus helped New Hampshire families and workers:
President Trump and his administration fought to give states and local governments like New Hampshire the resources and help they need to fight the coronavirus.

President Trump's Paycheck Protection Program saved 200,000 New Hampshire jobs by providing over 24,000 businesses with more than $2.5 billion worth of loans in the state.

Over 700,000 Granite States have received Economic Impact Payments, totaling over $1.1 billion in relief.

President Trump signed the CARES Act into law, providing up to $1.25 billion worth of aid to New Hampshire and more than $165 million in relief to 1,445 health care providers in the state.
New Hampshire's businesses are poised for a historic comeback thanks to President Trump's economic leadership:
President Trump's tax cuts, deregulation, and pro-growth policies helped build a stronger economy for New Hampshire's workers and businesses, and he is doing it again!

New Hampshire added 49,100 jobs back in the last three months.

The Granite State's unemployment rate fell by 2.6%, the largest one-month drop in history.

Over the next decade, President Trump's tax cuts are projected to create 5,607 new jobs in New Hampshire. Joe Biden has pledged to repeal the tax cuts.

The Trump tax cuts created 27 new opportunity zones in New Hampshire, which will lead to new private investment in distressed communities.
President Trump's historic response to combat the opioid epidemic is delivering results in the Granite State:
Under President Trump, the federal government has increased grants to fight the opioid crisis to $1.5 billion annually.


Starting in 2018, the Trump Administration awarded New Hampshire nearly $46 million in federal funding through the State Opioid Response (SOR) grant program.


Early results are promising, with opioid deaths declining in the state. According to most recent data, New Hampshire's opioid overdose levels have declined 15 percent compared to the prior year, and have fallen 21 percent since their peak in 2018.
But Joe Biden's disastrous agenda will decimate New Hampshire's recovering economy and undo President Trump's policies that help Granite Staters the most:
Joe Biden pledged charter schools will be "gone" if he is elected president. Charter schools play a significant roll in New Hampshire's education with over 3,500 students enrolled in over 31 charter schools.

Biden's health care plan puts New Hampshirites at risk and would decimate their access to care.

Under a "public option" like the one Joe Biden is proposing, 10 of New Hampshire's rural hospitals would be at "high risk" of closing.

A public option's lower payments to doctors and other health care providers could cut $384 million from these hospitals.


Joe Biden's radical energy policies would devastate New Hampshire's workers and businesses.


The oil, gas, and coal industries support more than 25,000 jobs in New Hampshire and contribute more than $2.3 billion annually to New Hampshire's economy.

81% of New Hampshire's homes are heated by oil, natural gas and propane, fossil fuels that Joe Biden wants to eliminate.

Democrats' radical Green New Deal would cost the average New Hampshire household $40,000 each year.
Donald J. Trump, Trump Campaign Press Release - President Trump is Fighting for New Hampshire Workers and Families Online by Gerhard Peters and John T. Woolley, The American Presidency Project https://www.presidency.ucsb.edu/node/345567