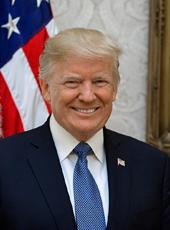 Trump Campaign Press Release - President Trump Defies Experts With Stunning Jobs Report
The Federal Reserve, the CBO, and even Joe Biden all predicted this kind of jobs comeback was impossible.
The Federal Reserve predicted that unemployment would only fall to 9.3% by the end of the year. The CBO predicted unemployment would hover at 16% in the third quarter. Even Joe Biden laughed off the suggestion that the economy would bounce back anytime soon. Yet President Trump's economic leadership has defied the experts yet again: 1.4 million jobs were created in August and the unemployment rate fell "dramatically" to 8.4%, the second-largest one-month decrease in American history.
It's now undeniable that President Trump's stewardship of the economy is delivering incredible results. Under President Trump's leadership, the economy has added back an amazing 10.6 million jobs over the past four months – nearly half of all of the jobs lost due to the global coronavirus pandemic from China. Unemployment fell for all groups of Americans, including Hispanics, Black Americans, women, and veterans. Even former Obama-Biden economic advisor Jason Furman admitted this morning that the unemployment rate is now "lower even than I thought it would be at the end of the year."
With every stellar jobs report, it becomes increasingly clear that Joe Biden has no idea what he is talking about. After presiding over eight years of the worst economic recovery since the Great Depression, he's proposing even more radical left-wing policies that will stall America's economic comeback. Biden said he would shut down the economy again, despite mounting evidence that Americans can both be safe and get back to work at the same time. Biden would cripple the recovery by raising taxes on the middle class, instituting crushing mandates on small businesses, and killing jobs with a radical War on American-Made Energy.
President Trump is the only candidate who will America on the path back to economic prosperity. He built the best economy in American history once before, and now he is doing it again.
Donald J. Trump, Trump Campaign Press Release - President Trump Defies Experts With Stunning Jobs Report Online by Gerhard Peters and John T. Woolley, The American Presidency Project https://www.presidency.ucsb.edu/node/345512