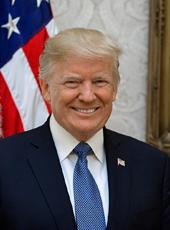 Trump Campaign Press Release - President Trump Brings Push for Peace and Public Safety to Kenosha, Wisconsin
Joe Biden's "soft spot for rioters" is on full display.
President Trump is visiting today with residents impacted by the far-left violence in Kenosha, Wisconsin, and with the brave law enforcement officers who helped restore peace. The events in Kenosha put President Trump's commitment to public safety and law enforcement – and Joe Biden's weakness – on full display.
In the wake of the violent riots, Wisconsin Democrat Gov. Evers followed President Trump's urging to restore public safety and deployed the National Guard to Kenosha. Further, after initially resisting President Trump's offer of federal assistance, Gov. Evers accepted additional law enforcement support. This finally brought multiple nights of riot-free calm in Kenosha while people continued to peacefully protest.
Unlike Biden, President Trump isn't afraid to confront the far-left mob. He knows what it takes to restore public safety and immediately offered state and local leaders the federal assistance they need to protect innocent people and their livelihoods. The same can't be said for Biden, who failed to even acknowledge any of the rioting during his entire four-day convention:
Biden failed to speak out against state and local Democrat officials who allowed violence to continue in their cities unchecked.

Biden launched plenty of political attacks against President Trump, but failed to endorse any specific action to restore public safety.

Biden failed to acknowledge the National Guard's success in quelling the riots, but did accuse them of being nothing more than "props" for President Trump.

Biden failed to condemn far-left violent groups like Antifa, instead faulting only the brave men and women of law enforcement.
In May, while President Trump was calling for Minneapolis to boost law enforcement to put an end to the riots, Joe Biden's campaign was fundraising to bail rioters out of prison. It was President Trump's suggestion for a "massive show of force" in the streets if Minneapolis that "shifted momentum" away from the rioters and towards public safety.
There's a reason law enforcement organizations that once supported Joe Biden are abandoning him and endorsing President Trump. Yesterday, Biden asked if people really think he has a "soft-spot" for rioters. Until Biden actually condemns the far-left groups like Antifa that are stoking the riots, condemns the radical Democrats who are allowing them to continue unchecked, and proposes how he would guarantee public safety, the answer is clearly yes.
Donald J. Trump, Trump Campaign Press Release - President Trump Brings Push for Peace and Public Safety to Kenosha, Wisconsin Online by Gerhard Peters and John T. Woolley, The American Presidency Project https://www.presidency.ucsb.edu/node/345519