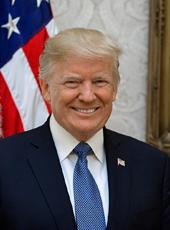 Trump Campaign Press Release - A President for Peace: Donald Trump Gets the Job Done
President Trump's accomplishments for global peace keep growing, and he's not slowing down.
After 39 years of American presidents starting wars or bringing the United States into an international armed conflict, President Trump has broken the streak. His historic actions advancing peace have earned him an extremely well-deserved 2021 Nobel Peace Prize nomination.
Nominated for helping broker the Abraham Accord, a groundbreaking peace deal between Israel and the United Arab Emirates (UAE), President Trump's actions were described as "more... to create peace between nations than most other Peace Prize nominees," including Barack Obama, who received the prize one year into his presidency despite zero results.
The Abraham Accord is the most significant step towards peace in the Middle East in over 25 years. More Middle Eastern countries are expected to follow the UAE, meaning this agreement could be a gamechanger that turns the Middle East into "a region of cooperation and prosperity."
President Trump's lengthy list of accomplishments in the Middle East is historic. He moved the U.S. embassy to Jerusalem, recognized Israel's sovereignty over the Golan Heights, held Syria responsible for using chemical weapons, destroyed the ISIS caliphate, brought ISIS leader Al-Baghdadi and his deputy to justice, brought Iranian terrorist Qasem Soleimani to justice, put maximum pressure on Iran and crippled its ability to fund terrorism and proxy wars throughout the region.
President Trump is also reducing the number of American troops in Iraq and Afghanistan, keeping his promise to bring our soldiers back home.
In the midst of delivering huge wins at home for the American people, President Trump has also made massive strides towards global peace. His nomination for the Nobel Peace Prize is extremely well deserved.
Donald J. Trump, Trump Campaign Press Release - A President for Peace: Donald Trump Gets the Job Done Online by Gerhard Peters and John T. Woolley, The American Presidency Project https://www.presidency.ucsb.edu/node/345541