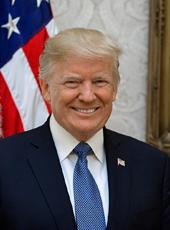 Trump Campaign Press Release - President Donald J. Trump Releases Letter to Pro-Life Leaders
As Joe Biden caves to the radical pro-abortion left and works to implement nationwide, taxpayer-funded abortion until birth, President Trump has stood strong in his pro-life commitments. President Trump is the most pro-life president in American history, and with four more years in the White House he will continue to transform the federal judiciary by appointing judges who recognize the sanctity of life and finally defeat the Democrat-backed abortion industry. Today in North Carolina, Vice President Mike Pence met with pro-life leaders at the Susan B. Anthony List while Eric Trump led an Evangelicals for Trump event, demonstrating the Trump Administration's strong pro-life convictions. In a letter to leaders in the pro-life movement, President Trump reiterated his commitment to defend the unborn:
"As I seek re-election this November, I need your help in contrasting my bold pro-life leadership with Joe Biden's abortion extremism. The Democratic Party unequivocally supports abortion on-demand, up until the moment of birth, and even infanticide -- leaving babies to die after failed abortions. Joe Biden's embrace of this extreme position is most evidenced by his support for taxpayer funding of abortion on-demand. Forcing taxpayers to pay for abortions is an abhorrent position that must be defeated at the ballot box. Joe Biden has doubled down on these positions with his selection of abortion extremist Kamala Harris as his running mate. With your help, I will win re-election, ensuring we have another four years to fight in the trenches for unborn children and their mothers."
To read the full text of the letter, click here.
Donald J. Trump, Trump Campaign Press Release - President Donald J. Trump Releases Letter to Pro-Life Leaders Online by Gerhard Peters and John T. Woolley, The American Presidency Project https://www.presidency.ucsb.edu/node/345518