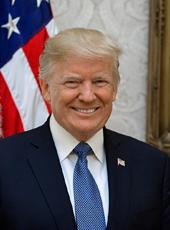 Trump Campaign Press Release - As Police Officers Sustain Injuries, Joe Biden Defends Violent Riots in Portland As 'Peaceful'
[APP Note:  As with all "Campaign Documents" archived by the APP, the content of this document was prepared by the presidential campaign. This is not the analysis or work product of the American Presidency Project.  We do not vouch for the accuracy of ANY campaign document published by any presidential campaign. They are provided as part of the historical record.]
Your family won't be safe in Biden's America.
Joe Biden sided with the radical left-wing rioters in Portland yesterday, rebuking the brave law enforcement men and women putting their lives on the line to return order to the streets and keep people safe. At least three officers may have been permanently blinded, but Biden is simply too weak to stand up to the violent mob causing mayhem and assaulting police.
A shocking report from NBC Portland describes Monday night's "peaceful protests," which Joe Biden is unconscionably defending:
"Federal officers used tear gas on crowds of people after some of them attempted to break into the federal courthouse and set it on fire late Monday night."
"[P]eople began spray painting the federal courthouse and pounding on plywood that covered the building…several people broke through the plywood and began pounding the windows with metal objects. They broke at least one window."
"Several members of the crowd threw rocks, bottles and other items at the federal officers[.]"
"Some people in the crowd lit a fire near a door to the federal courthouse…Later, others poured an accelerant over the door at the front of the courthouse and lit it on fire."
"Meanwhile, others continued to light fires downtown, including one on the awning and side of a building at Southwest Yamhill Street and 4th Avenue."
"Windows at Portland City Hall were smashed during the night."
"Someone looted a jewelry store near Southwest 3rd Avenue and Washington Street[.]"
That is all from just one night. Over the weekend, rioters also set fire to a police association office, burned flags, and broke down barricades protecting federal property, all while the Democrat Mayor of Portland blamed law enforcement for the escalating violence.
As Trump campaign communications director Tim Murtaugh said last night, "That Biden would accuse law enforcement of 'stoking the fires of division' while the mob is literally setting fires to police buildings is unconscionable. Biden has clearly lost his moral bearings and failed the leadership test." While Biden is too weak to stand up to the radical left-wing mob, President Trump will never stop working to ensure safe communities for all.
Donald J. Trump, Trump Campaign Press Release - As Police Officers Sustain Injuries, Joe Biden Defends Violent Riots in Portland As 'Peaceful' Online by Gerhard Peters and John T. Woolley, The American Presidency Project https://www.presidency.ucsb.edu/node/345738