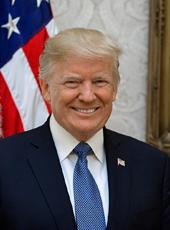 Trump Campaign Press Release - MAGAnomics: President Trump Leads the Great American Comeback While Joe Biden Promises to Raise Taxes and Kill Jobs
Ahead of the first presidential debate tomorrow, the economy has been the hot topic of this election. While President Trump delivered the greatest economy of all time before the artificial interruption of coronavirus and is now leading the Great American Comeback, Joe Biden has promised to impose a $4 trillion tax hike and fully embraces the radical Green New Deal. Dr. Paul Hsu and Chris Buskirk, founder of American Greatness, discussed all this and more on tonight's 'MAGAnomics' broadcast, hosted by Steve Cortes, Trump 2020 Senior Advisor.

"President Trump and Joe Biden present two very different economic visions for our country, and that will be on full display during the first debate," said Steve Cortes, Trump 2020 Senior Advisor. "With a second term, President Trump will continue to deliver historic achievements not only for the economy, but for our great nation as a whole."
"Under President Trump's pro-job, pro-growth policies, this country is experiencing the greatest period of job growth in American history," said Dr. Paul Hsu. "As an entrepreneur in this country, I know firsthand President Trump's economic agenda will continue to deliver jobs for the American people and restore our country to unprecedented heights."
"A defining factor of this election will be the economy, and President Trump's policies have created the greatest economy of all time," said Chris Buskirk, founder of American Greatness. "When you compare President Trump's and Joe Biden's record on the economy, the choice could not be clearer. The only way to ensure continued American prosperity is to re-elect President Trump this November."
Donald J. Trump, Trump Campaign Press Release - MAGAnomics: President Trump Leads the Great American Comeback While Joe Biden Promises to Raise Taxes and Kill Jobs Online by Gerhard Peters and John T. Woolley, The American Presidency Project https://www.presidency.ucsb.edu/node/345538