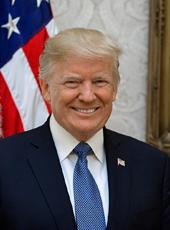 Trump Campaign Press Release - Knock-Knock. Who's There? Hypocrisy?
The Biden campaign will now start door-knocking, a practice Democrats repeatedly said was dangerous and ineffective
Key Takeaways:
Today, the Biden campaign announced that it would begin door-knocking with just 32 days before the election

The DNC also condemned door-knocking, saying it was "not "safe" and was "risking lives"

House Speaker Nancy Pelosi said in-person voter outreach was "a matter of life and death"

Today, The Biden Campaign Announced That They Would Begin Door Knocking, In "A Reversal" After "The Biden Campaign Had Previously Kept Its Focus On Organizing Digitally And By Phone." "Joe Biden's presidential campaign will begin door-knocking this week, a reversal after some Democratic groups in battleground states expressed concerns that its caution about social distancing was closing off a vital tool for reaching voters. Hundreds of volunteers will start hitting the streets this week in Nevada, Michigan, Minnesota, New Hampshire and Pennsylvania, according to a Biden campaign official, with an expansion planned for next week. Unlike President Trump's campaign, the Biden campaign had previously kept its focus on organizing digitally and by phone, saying it didn't want to risk the health of supporters, volunteers and staffers amid the coronavirus pandemic. But campaign staff say they have been working on a strategy to engage voters in person since the Democratic convention in August. 'We're now expanding on our strategy in a targeted way that puts the safety of communities first and foremost and helps us mobilize voters who are harder to reach by phone now that we're in the final stretch and now that Americans are fully dialed-in and ready to make their voices heard,' Biden campaign manager Jen O'Malley Dillon said in a statement." (Eliza Collins, "Biden Campaign Launches Door-Knocking Campaign," The Wall Street Journal, 10/1/20)
The Biden Campaign Previously Said That Door Knocking "Doesn't Really Matter" And Was A Threat To The Health Of Volunteers And Voters
Biden Campaign Manager Jennifer O'Malley Dillon, When Asked About the Campaign's Lack Of Door Knocking, Said "A Campaign In A Pandemic Simply Can't Look Like Campaigns Did Before — At Least, Not If The Campaign Actually Cares About Its People." "'People are scared and they're worried,' Jen O'Malley Dillon, Biden's campaign manager, told me. 'And I know that. And I know that this is super hard, and there's an assumption by the media and people at large that because they're not seeing the same things in the same way as before that that is fundamentally a problem for us.' But she argues that a campaign in a pandemic simply can't look like campaigns did before — at least, not if the campaign actually cares about its people. 'What is most important is the conversation and the engagement,' she said. 'It is not the tactic that gets to the engagement. That's how we're building the program and reaching voters every day.'" (Michelle Goldberg, Op-Ed, "The Biden Campaign Isn't Door Knocking. Don't Freak Out," The New York Times, 9/18/20)
O'Malley Dillon: "While You Might Hear Our Opponent Spend A Lot Of Time Talking About The Millions Of Door Knocks ... Those Metrics Actually Don't Have Any Impact On Reaching Voters." "'While you might hear our opponent spend a lot of time talking about the millions of door knocks or attempts that they're making week to week, those metrics actually don't have any impact on reaching voters,' Jen O'Malley Dillon, Biden's campaign manager, said during a call with reporters earlier this month. 'Our metric of success, the numbers we look at and use, are conversations [with voters].'" (Holly Otterbrein and Alex Thompson, "Down-Ballot Split From Biden On Door-Knocking," Politico, 9/14/20)

O'Malley Dillon: "In Previous Campaigns, We Would Always Say Organizing, Door-Knocking Is The Gold Standard ... In A COVID Reality And A Global Pandemic, It Is Not The Gold Standard." "Biden campaign manager Jen O'Malley Dillon acknowledged this during a Wednesday night fundraiser but argued that the Biden campaign was adapting to the current circumstances. 'In previous campaigns, we would always say organizing, door-knocking is the gold standard,' she said. 'In a COVID reality and a global pandemic, it is not the gold standard. The gold standard, I think, is creating community.'" (Alexandra Jaffe, "Campaigning Finds A New Normal As Door-Knocking Resumes," Associated Press, 6/25/20)

O'Malley Dillon: Door Knocking "Doesn't Really Matter." POLITICO'S ANNA PALMER: "Another big kind of stark difference between the campaigns is just the ground game, the President's team is knocking on doors, the outside groups are going, you know, kind of really having that physicality that is typical to campaigns. How much of a risk is it for you all to not be hitting the pavement in a state, such as Florida, where it's obviously being, kind of, tightening. You're going after the same targeted voters, where there's been no campaign-led voter registration. How do you— are you concerned about that?" JENNIFER O'MALLEY DILLON: "So, I completely disagree with your statement that there's no activity taking place. So let me take a step back and say, first, I'm an organizer. I might have the title of campaign manager, but that's what I do, and I know this better than any part of the campaign and what matters about organizing is engaging with voters and having real conversations. We spent so much time talking about tactics, but fundamentally knocking on a door and not reaching any one doesn't get you much except leaving a piece of lit behind, might as well send a piece of mail. So we're focusing on the wrong thing and I know the Republicans want to say we have, you know, a million door knocks a week. Well, that doesn't really matter." (Politico's "Playbook," 9/15/20)

Biden Campaign States Director Jenn Ridder: The Trump Campaign "Is Blatantly Going To Doors. ... [Voters] Are Worried About The Economy, They Are Worried About Sending Their Kids To School, And They Are Worried About Covid." "'Donald Trump's voter outreach fails to understand the concerns of Americans right now,' the Biden campaign's states director, Jenn Ridder, said. 'He is blatantly having events. He is blatantly going to doors. And the reality of this country is, they are worried about the economy, they are worried about sending their kids to school, and they are worried about covid.'" (Josh Dawsey, Michael Scherer, And Annie Linskey, "Campaign Of Contrasts: Trump's Raucous Crowds Vs. Biden's Distanced Gatherings," The Washington Post, 9/9/20)
Ridder: "People Are Not Necessarily Wanting Someone To Go Up To Their Door Right Now." "'At first I was nervous, but our response rates on phone calls and texts are much higher and people are not necessarily wanting someone to go up to their door right now,' said Jenn Ridder, Biden's national states director. 'You get to throw a lot of the rule book out the window and try out new things.'" (Alex Thompson, "Trump's Campaign Knocks On A Million Doors A Week. Biden's Knocks On Zero," Politico, 8/4/20)
Biden Deputy States Director Molly Ritner: "We Have Taken This Stance From The Get-Go That We Are Not Going To Do Anything That Puts The Safety Of Our Staff, Volunteers Or Voters At Risk." "There's also a big difference in what sort of campaigning field organizers and the volunteers they're recruiting are doing, too. While the Trump team has continued to canvass neighborhoods in person, knocking on doors to either talk with voters or leave campaign literature, Biden and the Democrats have given it up in the name of public health. 'We have taken this stance from the get-go that we are not going to do anything that puts the safety of our staff, volunteers or voters at risk and we are going to listen to medical experts about what is appropriate,' said Ritner. 'So, for the last few months, these organizers have been working from home and engaging with volunteers online, over the phone and via text.'" (Michael Warren, Dana Bash, Dan Merica and Ryan Nobles, Trump's Campaign Hoping For A Superior Ground Game As Election Clock Ticks," CNN, 9/10/20)
Biden National Press Secretary TJ Ducklo Said "That's What Leadership Looks Like" When Asked About Only Virtual Canvassing, Saying The Biden Campaign Was "Prioritizing" The "Health" And "Safety" Of Voters. "But Biden officials insist the growing disparity in physical door knocks is a mirage because of other methods they're using to get in contact with voters. Biden's campaign said its employees and volunteers are having thousands of 'meaningful conversations' a day with voters in battleground states about him, 'while prioritizing public health and the safety of our supporters,' guided by the conditions on the ground. 'That's what leadership looks like,' spokesperson TJ Ducklo said, 'and is what voters want to see in their president.' The strategy to hang back also reflects Biden's lower tolerance for risk and the degree to which he's emphasizing the dangers of the virus. (Christopher Cadelago, "Voters To Trump And Biden Camps: Don't Come Knocking On Our Doors," Politico, 9/22/20)
Biden Rapid Response Director Andrew Bates Suggested Door Knocking Would Spread The Coronavirus: "Get The Fuck Off My Doorstep Before You Give Me Coronavirus." "In short... GOP canvasser: Isn't Trump doing a phenomenal job helping the pandemic take lives and jobs while also fueling division and unrest? Voter: Get the fuck off my doorstep before you give me coronavirus." (Andrew Bates, Twitter, 9/28/20)

The DNC Said Door Knocking Would Risk "The Lives Of Voters" And Was Not "Safe"
DNC Director Of Battleground State Communications David Bergstein: "Sending A Masked Organizer To Knock On A Stranger's Door In The Middle Of A Raging Pandemic Is Not A Safe Or Effective Use Of Campaign Resources." "Democrats have taken a more cautious approach, accusing the president of endangering lives and prolonging the pandemic by moving too fast. 'Sending a masked organizer to knock on a stranger's door in the middle of a raging pandemic is not a safe or effective use of campaign resources,' said David Bergstein, the DNC's director of battleground state communications." (Jonathan Easley, "Trump, Biden Tactical Battle Intensifies," The Hill, 8/10/20)
DNC Spokesperson Lily Adams Accused The Trump Campaign Of "Risking The Lives Of Their Staff, The Lives Of Voters, And Risking Becoming A Super Spreader Organization" By Knocking On Doors. "The Trump campaign is risking the lives of their staff, the lives of voters, and risking becoming a super spreader organization during the middle of a pandemic. Sounds in line with how Trump is running the country." (Lily Adams, Twitter, 8/5/20)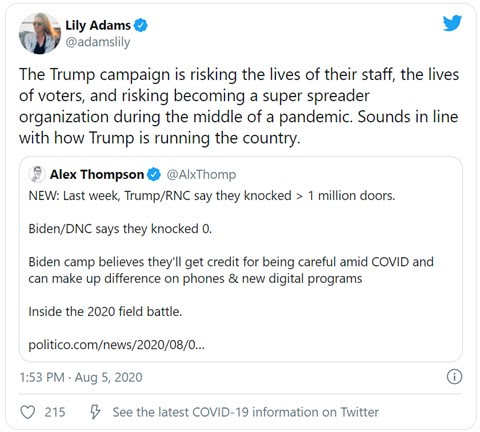 DNC Chief Technology Officer Nellwyn Thomas Touted The DNC And Biden Campaign's Use Of Phone Calls And Texts, Saying Door-To-Door Canvassing "Doesn't Scale Well, Specially In An Era Of COVID." "Although the national database had been in use before, a new element is Sonar's ability to predict which phone numbers are accurate and how voters prefer to be contacted, said Nellwyn Thomas, the DNC chief technology officer. 'This will absolutely be used by the Biden campaign in the presidential race but also in the House and Senate races,' she said. Former Vice President Joe Biden is the expected Democratic nominee. Political campaigns are 'effectively giant communication engines and they're communicating at many different levels' with voters, Thomas said. Campaigns use a combination of approaches to drive their messages, such as large gatherings, news events, announcing policy proposals and direct one-on-one contacts. But door-to-door canvassing 'doesn't scale as well, especially in an era of COVID, so using phone calls and text messages becomes increasingly important,' she said." (Gopal Ratnam, "Please Answer The Phone (Or Text), This Is The Democratic Party Calling," Roll Call, 7/15/20)
Other Democrats And Liberal Organizers Joined In, Saying There Was "No Ethical Way" To Door Knock
House Speaker Nancy Pelosi (D-CA) Called Democrats Decision To Not Hold In-Person Door-Knocking "A Matter Of Life And Death." HOUSE SPEAKER NANCY PELOSI (D-CA): "Well, let me just say that everything – people have to make their judgment in their region. If the incidence of infection is low they may have more capability of reaching out to people. But the fact is this is a matter of life and death. And the ability to – we all would much – we all draw strength from our contact with our constituents. They're our inspiration. They show us the ramifications of public policy and the rest. They give us initiatives of national significance to share with others. So, we all miss that. There's no question. But the fact is, we have to protect them. We have to protect them. And so I would say – again, I don't know what the Republicans are doing. I have no advice for them, except when they come here they have to wear a mask. But the fact is listen to the scientists. The scientists give you the best guidance on how to interact with others, and social distancing is a very important part of it." (Nancy Pelosi, Remarks During Weekly Press Conference, Washington, D.C., 8/27/20)

Democratic Organizer Greta Carnes Said There Is "No Ethical Way" To Canvass During A Pandemic And That Canvassing Puts Volunteers And Voters "At Risk." "'The biggest reason why we're choosing not to canvass is because there is not an ethical way to canvass during a pandemic, there's just not,' Carnes said. 'It's one thing to know that you're putting your volunteers at risk, but it's totally another to have them go to doors and you have no idea what the situation of people at those doors is,' she added. 'You have no idea if they have a kid who's got cancer. You've got no idea if they're immunocompromised. There just, point blank, is no ethical way to approach canvassing at scale in a year like this.'" (Will Steakin, Justin Gomez, And Terrance Smith, "Trump's Defiant Campaign Amid Pandemic Ramps Up Ground Game, As Biden Looks For Another Way," ABC News, 8/1/20)
Nebraska Democratic Party Chairwoman Jane Kleeb Said The Party Did Not Think It Was "Safe For Our Staff Members And Voters' Health To Be Conducting Conversations At The Doors." "'We do not think it is safe for our staff members and voters' health to be conducting conversations at the doors right now,' said Jane Kleeb, chairwoman of the Nebraska Democratic Party." (Aaron Sanderford, "Why Republicans Might Knock On Your Door, But Democrats Might Not – Yet," Omaha World-Herald [Omaha, NE], 7/10/20)
Former Buttigieg Presidential Campaign Senior Advisor Michael Halle Said The Biden Campaign Was "Acting Responsibly In A Pandemic" By Not Door Knocking. "'Politics is the last remaining marketing entity — which essentially is what a campaign is — that utilizes door knocking as a technique,' said Michael Halle, a former senior adviser to Pete Buttigieg's presidential campaign. 'The Trump approach of measuring door knocks is very antiquated and I think the Biden campaign may be following that model if they hadn't been forced to think differently because they're acting responsibly in a pandemic.'" (Alex Thompson, "Trump's Campaign Knocks On A Million Doors A Week. Biden's Knocks On Zero," Politico, 8/4/20)
Former Kamala Harris Spokesperson Ian Sams Said The Trump Campaign Was "Embracing Extreme Minority Views During The Pandemic" By Door Knocking. "There's been a lot of media coverage and Dem bedwetting about the Biden campaign's decision not to door-knock due to covid. But guess what? Only 16% of Americans—and 7% of independents—even want that. Yet another way Trump is embracing extreme minority views during the pandemic." (Ian Sams, Twitter, 9/24/20)

Donald J. Trump, Trump Campaign Press Release - Knock-Knock. Who's There? Hypocrisy? Online by Gerhard Peters and John T. Woolley, The American Presidency Project https://www.presidency.ucsb.edu/node/345721