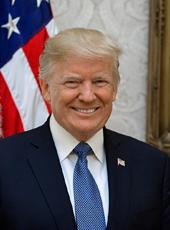 Trump Campaign Press Release - Kamala Harris: A Phony, Far-Left Radical Who's Wrong for America
Harris will never put America first.
Kamala Harris may be the perfect match for Joe Biden, but she's wrong for America.
Harris is a total phony. Last year she attacked Joe Biden for palling around with racist segregationists and working with them to enact racist policies that hurt her personally. Now she's agreed to be Biden's political living will.
Harris is no moderate. She was rated the most liberal member of the Senate, even more liberal than socialist Bernie Sanders or Elizabeth Warren. Now she's ready to use Biden as an empty vessel for her far-left agenda.
Instead of prioritizing the wellbeing of the American people, Harris will put illegal immigrants first.
Harris supports deadly sanctuary cities.

Harris said "we need to probably think about starting from scratch" when asked about abolishing Immigrations and Customs Enforcement (ICE). She's even compared ICE to the KKK.

Harris proudly raised her hand in support of decriminalizing illegal border crossings.

Harris and Biden support giving taxpayer-funded health benefits to illegal aliens.
Harris is in lockstep with the socialist, job-killing policies of Bernie Sanders and AOC.
Harris supports massive tax increases and government spending.
Harris voted against President Trump's tax cuts for the middle class, and just like Joe Biden, says she wants to repeal them entirely.

When asked about AOC's proposed 80% tax rate, Harris said it was a "fantastic" idea.
Harris would be the most pro-abortion vice president in history.
Harris supports using taxpayer funds for abortions and giving the federal government the authority to veto pro-life state laws.

Harris voted against a bill to require lifesaving care for babies who survive abortions, and against a bill to ban abortion after 20 weeks. Like Biden, she supports aborting babies at any time, for any reason.

In 2018, Harris suggested that membership in the Catholic, pro-life organization the Knights of Columbus was disqualifying for a federal judicial nominee.

Harris prosecuted a pro-life journalist and whistleblower who exposed Planned Parenthood's illegal harvesting and selling of baby body parts.
Harris can't be trusted to keep our communities safe.
Harris refused to seek the death penalty for the killer of an Hispanic San Francisco police officer. She also gave a pass to an illegal alien MS-13 gang member who ruthlessly executed a father and his two sons.

Harris said she wants to "reimagine" the role of police and supported a $150 million cut to police funding in Los Angeles.

Harris said she was open to giving the right to vote to convicted terrorists and rapists while they are still in prison.

Harris encouraged her supporters to donate to the Minnesota Freedom Fund, which bailed violent criminals, including a twice-convicted rapist and would-be cop killer, out of jail.

Harris supports confiscating Americans' guns through a nationwide "mandatory buyback program."
Donald J. Trump, Trump Campaign Press Release - Kamala Harris: A Phony, Far-Left Radical Who's Wrong for America Online by Gerhard Peters and John T. Woolley, The American Presidency Project https://www.presidency.ucsb.edu/node/345824