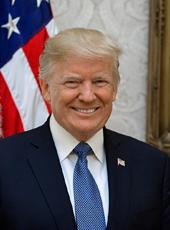 Trump Campaign Press Release - Joe Biden's Open-Borders Agenda Will Endanger American Lives
Biden will turn the entire country into a sanctuary for illegal aliens and gang members.
Running for president, Donald Trump promised voters he would take swift action to secure America's borders. Decades of lawlessness allowed by do-nothing, career politicians like Joe Biden encouraged more illegal immigration, decimating workers' job opportunities, depressing wages, and jeopardizing the safety and security of their families. President Trump kept his promise to do something about it, and despite Democrats' refusal to help keep America safe and put America first, the border wall is finally being built and our immigration laws are finally being enforced.
Since taking office, President Trump and his administration have:
Built 300 miles of the border wall.
Reduced illegal border crossings by 60% and ended lawless, Biden-era "cease-and-desist" policies.
Arrested over 380,000 illegal immigrants with criminal records, including assault, sex crimes, and murder.
Seized 2 million pounds of deadly drugs.
Stripped federal funding from sanctuary cities while fighting deadly sanctuary policies in court.
Negotiated historic agreements with Mexico to help enforce the rule of law on the southern border.
In contrast, Joe Biden and Kamala Harris are pushing a far-left, radical, open-borders agenda that would reverse the progress President Trump made and re-open the floodgates of illegal immigration.
Biden and Harris want to:
Turn the entire country into a sanctuary for illegal aliens.
Shut down detention facilities, severely hampering immigration enforcement's ability to detain and remove illegal aliens.
Stop all deportations, even for violent criminals and gang members.
Provide health care and other benefits to illegal aliens, encouraging more illegal immigration.
Harass, investigate and fire immigration law enforcement officers who do their job.
Make no mistake: a vote for Joe Biden is a vote to dissolve America's borders and invite more criminals into our country. A vote for President Trump is a vote to enforce our laws, support American workers, and keep families safe and secure.
Donald J. Trump, Trump Campaign Press Release - Joe Biden's Open-Borders Agenda Will Endanger American Lives Online by Gerhard Peters and John T. Woolley, The American Presidency Project https://www.presidency.ucsb.edu/node/345634