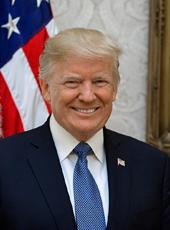 Trump Campaign Press Release - Joe Biden Has Been Proven Totally and Utterly Wrong About Iran
Israel is more secure and Iran is more isolated thanks to President Trump.
Joe Biden has terrible timing.
On Thursday, Biden claimed President Trump "put Israel in danger by tearing up the Iran nuclear deal, and replaced it with nothing." On Friday, President Trump announced the second peace deal between Israel and an Arab state in the last month, another accomplishment that had been out of reach for decades.
Not only has President Trump's foreign policy strengthened America's national security, it has also made Israel safer, advanced the cause of peace in the Middle East, and brought countries in the region together in opposition to Iran.
Joe Biden has been wrong about every major foreign policy decision of the last four decades, and he's been proven totally and utterly wrong yet again.
Biden said President Trump's decision to withdraw from the failed Iran deal would make war more likely. In fact, Iran is weaker and more isolated than ever.

Biden said President Trump's decision to move the U.S. embassy to Jerusalem would inflame tensions in the region. In fact, the UAE and Bahrain have now agreed to historic peace deals with Iran.

Biden said that President Trump's decision to eliminate Iranian terrorist Qasem Soleimani – who was responsible for the deaths of hundreds of American troops in Iraq – was a mistake that amounted to "tossing a stick of dynamite into a tinderbox." Biden claimed "we could be on the brink of a major conflict across the Middle East."
None – not a single one – of Biden's predictions came true.
If Biden is elected, he will reverse President Trump's strong measures against Iran, giving the largest state sponsor of terrorism a massive infusion of resources (again). The mullahs would love to return to the days of Biden secretly shipping them pallets of unmarked cash and letting Iran get away with taking Americans hostage. No wonder Iran wants President Trump to lose the election and is looking to Biden for a lifeline.
"For more than three years, the naysayers brayed that the Trump administration's moves in the region would hinder the peace process and potentially lead to conflict," writes National Review's editors. "At every turn, they have been proven wrong." None of them were more wrong than Joe Biden.
Donald J. Trump, Trump Campaign Press Release - Joe Biden Has Been Proven Totally and Utterly Wrong About Iran Online by Gerhard Peters and John T. Woolley, The American Presidency Project https://www.presidency.ucsb.edu/node/345528