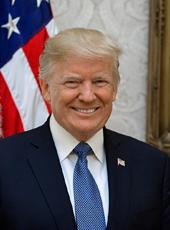 Trump Campaign Press Release - Joe Biden Had A Chance To Tackle Prescription Drug Prices. He Failed.
President Trump is taking action to get the job done.
President Trump is protecting Americans' health care and aggressively fighting to bring down prescription drug prices and premiums – and he's getting results. In contrast, during his eight years as vice president, Joe Biden failed to achieve any significant reforms in prescription drug pricing.
Instead of taking action when he had the chance, Biden caved to the pharmaceutical industry, striking a secret deal to protect big drug manufacturers in exchange for a $150 million advertising campaign from the industry to sell Obamacare. In return, the Obama-Biden Administration assured there would no "structural reform" of drug pricing under the law. As The New York Times reported at the time, Obama and Biden "cut a closed-door deal with a powerful lobby, signifying to disillusioned liberal supporters a loss of innocence, or perhaps even the triumph of cynicism."
Biden prioritized his own political agenda ahead of the American people, and he's doing it again. Biden is pushing a radical agenda that would kill Americans' private health plans, close hospitals, and jeopardize jobs:
The public option championed by Biden will kill the private insurance plans held by millions of Americans, a fact that President Obama himself acknowledged in 2009. Jonathan Gruber, the architect of ObamaCare who endorsed Biden's health care plan, authored multiple studies that confirmed government-run health insurance like the type Biden is proposing drives people off of their private health plans.

Biden's public option plan would put more than half of rural hospitals at "high risk" of closure, jeopardizing access to 63,000 hospital beds and threatening the jobs of 420,000 health care employees.

Biden pledged to bring back the unpopular individual mandate tax, disproportionately taxing lower-income families.
President Trump is the only candidate who will fight to protect families' health care and has a proven record of action to combat prescription drug costs. Americans can't afford to give Biden another four years in addition to his abysmal 47 years of failure.
Donald J. Trump, Trump Campaign Press Release - Joe Biden Had A Chance To Tackle Prescription Drug Prices. He Failed. Online by Gerhard Peters and John T. Woolley, The American Presidency Project https://www.presidency.ucsb.edu/node/345748