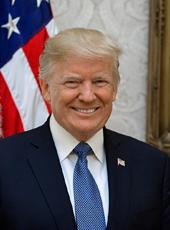 Trump Campaign Press Release - Joe Biden and Karen Bass Would Invite Castro's Communism Into America
By considering Rep. Karen Bass as a running mate, Joe Biden is signaling to Cuban-Americans that he is comfortable with the prospect of a fervently pro-Castro vice president who has always held a fond view of the brutal, communist Cuban dictatorship. Bass has openly admitted to being part of a radical group that trained American militants in Cuba. Whether Bass is on the ticket or not, Joe Biden will be held accountable for even considering a Castro sympathizer for Vice President.
Team Trump hosted a press call Saturday with Senator Marco Rubio (R-FL) and Florida Lieutenant Governor Jeanette Nuñez on Karen Bass and Joe Biden's alarming embrace of communist ideologies.
"The fact that he would even consider Congresswoman Bass for a position like this shows that lack of strength, it shows that elements within his own party have forced him to consider someone with a record like this," said Senator Marco Rubio (R-FL). "If God forbid, Joe Biden is elected president and Congresswoman Bass becomes vice president, she'll be the highest ranking Castro sympathizer in the history of the United States government. And it couldn't come at a worst time, when both regimes in Venezuela and in Havana are teetering on the brink of real collapse and having to make systemic changes, and in the case of Maduro abandoned the country. And the only thing they're hoping is that Donald Trump loses the election in November because they believe a new administration would change its approach towards them and throw them a lifeline."
"I think I speak for all freedom loving Americans in this nation, especially Cuban Americans, when I say that a vote for Biden-Bass would be a slap in the face to all of those Cuban dissidents and exiles who have arduously worked and lost their lives, ensuring our civil and political rights remain untouched," said Florida Lieutenant Governor Jeanette Nuñez. "The choice is simple come November - vote for a true Commander in Chief in President Trump, a leader that will not cower and will not let the grips of socialism dismantle our Constitution or take over our country."
For Senator Marco Rubio's remarks click here.
For Florida Lieutenant Governor Jeanette Nuñez's remarks click here.
Donald J. Trump, Trump Campaign Press Release - Joe Biden and Karen Bass Would Invite Castro's Communism Into America Online by Gerhard Peters and John T. Woolley, The American Presidency Project https://www.presidency.ucsb.edu/node/345814