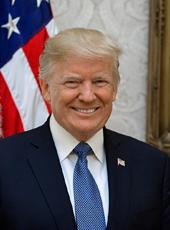 Trump Campaign Press Release - FACT: The Obama-Biden Administration Failed to Take Out ISIS Terrorist Leader Al-Baghdadi
"If Donald Trump had been president when Kayla was captured, she would be here today."
When Biden was vice president in 2011, U.S. special forces located terrorist Abu Bakr al-Baghdadi, who would later become the bloodthirsty leader of the Islamic State (ISIS). They requested authorization for a drone strike to take him out, but it was delayed two weeks under the Obama-Biden Administration.
According to U.S. special operations soldier Brett Velicovich:
"So as the drone team looked down at the house through an infrared camera, the request to raid passed from one empty suit to another, from Iraq to Washington. Calls were made to bosses multiple times, pressing them to make a move, knowing that Baghdadi was in the house at that very moment. It was two weeks before they finally approved the mission."

"But by that time it didn't matter when the Iraqis finally stormed the house. The al-Baghdadi I knew doesn't stay anywhere for two weeks."

"The world's most wanted terrorist could have very well met his maker that very night before he truly took the reins of ISIS years later."
According to the parents of Kayla Mueller, who was tortured and killed by al-Baghdadi, the Obama-Biden Administration delayed in taking action to free their daughter.
"For 18 months she endured. And we endured an agonizing back and forth between us, the Obama administration and ISIS. We put all our faith in the government, but the government let us down. President Obama refused to meet with us until ISIS had already beheaded other Americans."

"To this day we never heard from Joe Biden. Instead the Obama Administration hid behind policy so much that we felt hopeless when they kept us from negotiating to save Kayla's life. The administration showed more concern for the terrorists in Guantanamo than the American hostages in Syria."
Under President Trump's leadership, U.S. special forces acted decisively to take out al-Baghdadi, dealing ISIS a devastating blow.
"If Donald Trump had been president when Kayla was captured," her father said, "she would be here today."
Donald J. Trump, Trump Campaign Press Release - FACT: The Obama-Biden Administration Failed to Take Out ISIS Terrorist Leader Al-Baghdadi Online by Gerhard Peters and John T. Woolley, The American Presidency Project https://www.presidency.ucsb.edu/node/345682