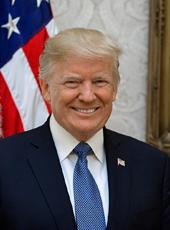 Trump Campaign Press Release - FACT: President Trump Has Boosted U.S. Manufacturing
Joe Biden would strangle America's manufacturing economy and send more jobs to China.
President Trump promised to bring manufacturing jobs back to the United States and put American workers first. He has kept his promise.
The Trump Administration's historic tax cuts reduced business taxes to level the playing field and brought manufacturing jobs back to the United States. Chinese officials even worried that the President's law would "set back China's global competitiveness and spur companies to invest in America instead of China." And they were right:
The US added 510,000 new manufacturing jobs between President Trump's election and February 2020.

In 2018, the United States added 264,000 new manufacturing jobs -- the most in 30 years.

During the Trump Administration's first 37 months, manufacturing production grew at a rate 11 times greater than the last 37 months of the Obama-Biden Administration.

In 2018, 95% of manufacturers had a positive outlook on their business, a record high.
President Trump negotiated America First trade deals to boost manufacturers:
President Trump's United States-Mexico-Canada Agreement (USMCA) is expected to create 176,000 new jobs and grow the U.S. economy by up to $235 billion.

The USMCA will boost manufacturers in every state, and the International Trade Commission predicted American manufacturing would experience "the largest percentage gains" in higher wages, new jobs, and greater exports out of any industry thanks to the USMCA.

President Trump is standing up to China's unfair trade practices. He successfully used tariffs to persuade China to sign a Phase One Trade Agreement that secured significant protections for American workers and businesses.
The Trump Administration is investing in opportunity for American manufacturing workers:
The Trump Administration established the National Council for the American Worker to develop a strategy for training and retraining the workers needed across high-demand industries.

More than 430 companies and organizations have signed President Trump's Pledge to America's Workers, contributing to over 16 million new education and training opportunities for students and workers.

President Trump is expanding apprenticeships, education, and workforce development programs in America.

The Trump Administration established the American Workforce Policy Advisory Board to provide advice to the National Council for the American Worker and improve skills-based hiring and training.
Donald J. Trump, Trump Campaign Press Release - FACT: President Trump Has Boosted U.S. Manufacturing Online by Gerhard Peters and John T. Woolley, The American Presidency Project https://www.presidency.ucsb.edu/node/344014