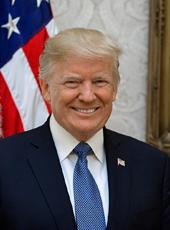 Trump Campaign Press Release - FACT CHECK: Biden Deputy Campaign Manager Spreads Disinformation on MSNBC
[APP Note:  As with all "Campaign Documents" archived by the APP, the content of this document was prepared by the presidential campaign. This is not the analysis or work product of the American Presidency Project.  We do not vouch for the accuracy of ANY campaign document published by any presidential campaign. They are provided as part of the historical record.]
The media again lets Kate Bedingfield's flagrant dishonesty go unchecked.
Joe Biden's deputy campaign manager Kate Bedingfield appeared on MSNBC and continued to push previously debunked false claims about President Trump's response to the coronavirus. Here are the facts.
FALSE CLAIM: "You have seen [President Trump] refuse to put the Defense Production Act into place."
THE TRUTH: FEMA Administrator Pete Gaynor testified July 22 that the Trump Administration has "used the DPA 14 times, we continue to use it for a variety of challenges that we see… We use it deliberately, we use it precisely to make sure we get what we need at the right amount of time, and I think the production of ventilators is an excellent example of how the administration used DPA to save lives and minimize suffering."
FALSE CLAIM: "You have seen [President Trump] refuse to put in place a meaningful supply chain commander to help make sure that we're getting the material that we need to the people who need it."
THE TRUTH: President Trump appointed a supply chain commander in March. The Supply Chain Stabilization Task Force at FEMA is headed up by Rear Admiral John Polowczyk of the Joint Chiefs of Staff. As he told the House Select Subcommittee on the Coronavirus Crisis on July 2, "I have two family members working on the healthcare front lines in New York. My sister is a nurse in Westchester and my niece is a nurse on Long Island. Daily I hear from them and am very cognizant of the needs of healthcare workers and if they are being met."
Last year, Bedingfield twice claimed on TV without evidence that the Obama "White House cleared Hunter [Biden] serving on the board" of Ukrainian gas company Burisma in 2014.
Donald J. Trump, Trump Campaign Press Release - FACT CHECK: Biden Deputy Campaign Manager Spreads Disinformation on MSNBC Online by Gerhard Peters and John T. Woolley, The American Presidency Project https://www.presidency.ucsb.edu/node/345746