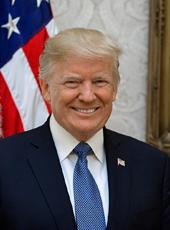 Trump Campaign Press Release - Donald J. Trump Receives Three Influential Florida Endorsements
Top National Security Experts and National Gold Star Mother Endorse Trump at Tampa Rally
(New York, NY) February 12th, 2016 — Today Donald J. Trump was endorsed by former USAF Colonel and retired senior intelligence and political-military affairs officer, Jim Waurishuk, highly decorated, retired Senior CIA Operations Officer Gary Bernsten, and National Gold Star Mother, Susan Price.
Mr. Trump says, "I am proud to be endorsed by such accomplished and well-respected military experts. Additionally, to be endorsed by a Gold Star mother is such a wonderful honor. Homeland security and strengthening our military are two of the most important issues and cornerstones of my campaign. Jim and Gary's support is so important to me and Susan is an incredible person and with their help we will win Florida and Make America Great Again!"
Waurishuk is extremely well respected in the security community and an expert on national security with specific expertise in strategic engagement and policy, and unconventional and asymmetric warfare. He has served as Deputy Director for Intelligence for U.S. Central Command (USCENTCOM) during the peak years (2004-07) of the wars in Afghanistan, Iraq, and the War on Terrorism. He is a former White House National Security Council staffer and former Distinguished Senior Fellow at the Atlantic Council, Washington, DC.
Additionally, Colonel Waurishuk served combat and combat-support tours in Grenada, Panama, Bosnia, Lebanon, Afghanistan, and Iraq, as well as on numerous special operations and intelligence contingency missions and operations Colonel Waurishuk is an in-resident graduate of both DIA's and CIA's National Senior Intelligence Officer programs, the USAF and the Armed Forces Command and Staff Colleges, a War College Senior Fellow, and the Office of the Secretary of Defense Executive Leadership Development Program.
Gary Berntsen is a highly decorated, retired Senior CIA Operations Officer and Chief of Station. He is the bestselling author of Jawbreaker, The Attack on Bin Laden and Al Qaeda,where he chronicles his leading role in the response to the September 11th attacks. In that role Berntsen led CIA Paramilitary Operations in Eastern Afghanistan on the Shomali Plains, Talaqan and Tora Bora where 135 CIA Officers and 350 Special Forces personnel led indigenous forces to defeat 70,000 Taliban and 5,000 Al Qaeda fighters. Mr. Berntsen is the recipient of the CIA's Distinguished Intelligence Medal and Intelligence Star. Mr. Berntsen is the author of several other books and is a frequent guest commentator on National Security and Counter terrorism on Fox News, CNN, Newsmax and other media outlets.
Susan Price, resident of Hillsborough County, is a National Gold Star Mother. She is an Army Veteran and the daughter of a Marine. She is also the mother of a fallen Marine hero, Gunnery Sgt. Aaron M. Kenefick, USMC. Aaron was killed in action on September 8, 2009, in Kunar Province, Afghanistan. Susan is a Veterans advocate and a national voice. She has appeared on 60 Minutes, and other national media, in television, newspaper, and radio. Susan has dedicated herself in the name of her son to protect America's legacy.
Donald J. Trump, Trump Campaign Press Release - Donald J. Trump Receives Three Influential Florida Endorsements Online by Gerhard Peters and John T. Woolley, The American Presidency Project https://www.presidency.ucsb.edu/node/314210