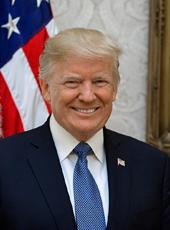 Trump Campaign Press Release - Donald J. Trump Receives Endorsement from Florida Federation of Republican Women
(Florida) June 11, 2016 - Dena Stebbins DeCamp, spoke on behalf of the Florida Federation of Republican Women, Endorsed Donald J. Trump at a June 11 Tampa Republican Rally (Lakeland).
As a testament to the hard work for the Republican Party provided by Republican Women throughout Florida and across the nation, Dena Stebbins DeCamp, president of the largest conservative women's organization in the state, the Florida Federation of Republican Women, was tapped to help introduce the presumptive nominee of the Republican Party for President, Donald J. Trump, at a Trump rally on June 11 at the Tampa Convention Center. This honor also serves as a testament to Federation members across Florida who have unparalleled, proven success in Getting Out the Vote.
In her proudest voice, she announced, "I am pleased to tell you today that the Florida Federation of Republican Women is proud to endorse Donald J. Trump for President of the United States of America."
Her remarks were also historic because, "This is the first time in the organization's 65 year history that a state Federation President has been so honored, a long-overdue recognition of the nation-wide work tens of thousands of women do day in and day out to advance the goals of the Republican Party," DeCamp advised.
In Florida, more than 60 federations across the state report to Ms. Decamp, who is also a Director of the National Federation of Republican Women headquartered outside of Washington, D.C., and one of 28 Florida Federation members across the state who have been elected by their peers as delegates to the Republican Convention being held July 18-21 in Cleveland, Ohio. In Florida, delegates are selected based upon their work on behalf of the Republican Party overall; not their political views.
Ms. DeCamp told the crowd, "this year we already have a Winner! Mr. Trump's non-traditional campaign style and message resonates with voters both here in Florida and throughout the nation. His primary results are historic; he has broken all turnout records, and we expect a huge turnout for him again in the November General Election!" She said women are already working hard across the nation to spread the truth and get him elected.
She told the audience the real truth about the so-called "War on Women". She said, "there is no war on women in the Republican Party; women are fully engaged and involved. The most shameful war on women is the one Hillary Clinton has waged on her husband's 'girlfriends'. Furthermore, Hilary Clinton has a disgraceful record of bullying, lying, cheating and hanging on to her husband's coat tails to advance her personal agenda. Informed American women will not be fooled by a candidate who disgraced our state department, refuses to hold press conferences and hides behind her husband," she concluded.
Ms. Decamp also began to dispel the myth that the Republican Party is not inclusive. "This is just plain nonsense, a fairy tale fabricated by Democrats," and added "here in Florida, I'm proud to announce today that three minority women in our membership have recently qualified by petition to run for the U.S. Congress in Florida." As state president, national federation director, and Republican delegate to the National Republican Convention, Ms. DeCamp left no doubt that the next five months will be a full-court press to see that Donald J. Trump is the next president of the United States. She pledged that she and the federation members will leave no stone unturned to assure that the State of Florida is painted "Red."
####
DeCamp contact info:

Dena Stebbins DeCamp

Email: [email protected]

Phone: 863-640-4805
Donald J. Trump, Trump Campaign Press Release - Donald J. Trump Receives Endorsement from Florida Federation of Republican Women Online by Gerhard Peters and John T. Woolley, The American Presidency Project https://www.presidency.ucsb.edu/node/317878