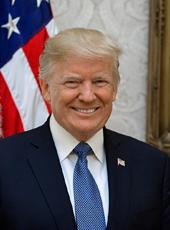 Trump Campaign Press Release - Donald J. Trump Exposes Club for Growth's Shakedown Attempt
Today, Donald J. Trump is calling for the immediate resignation of Club for Growth President David McIntosh after a failed attempt to secure $1 million dollars from Mr. Trump.In calling for Mr. McIntosh's immediate resignation, Mr. Trump says, "I am appalled by Mr. McIntosh's shameless pandering and blatant shakedown attempt, exposing him and the Club for Growth as a fraud."
Mr. McIntosh met with Mr. Trump and his representatives in New York City at Trump Tower on May 26th. During that meeting he praised Mr. Trump for his business success and talked about the need for someone like Mr. Trump to be in Washington, D.C. He then talked about the Club for Growth and what it is doing. The meeting lasted approximately 30 minutes.
One week later, Mr. Trump and political advisor Corey Lewandowski (now campaign manager) received letters (attached) from Mr. McIntosh requesting $1 million dollars of financial support for the Club for Growth. The letter to Mr. Trump states, "As we both know, it is business owners who create jobs- not the government."
Less than fourteen days after sending his request for the $1 million, and after Mr. Trump did not give money to the Club for Growth and instead declared his candidacy, Mr. McIntosh attacked Mr. Trump, was critical of his candidacy, and said, "It would be unfortunate if (Mr. Trump) takes away a spot at even one Republican debate."
Lewandowski stated, "The Club for Growth is the worst of the two-faced hypocrisy of Washington."
This exemplifies everything that is wrong with politics in our country. Club for Growth claims to fight for conservative causes and support Republican candidates who oppose politics as usual, and apparently will say anything in an effort to raise funds. This unfortunate incident is representative of the corruption that persists in Washington, D.C., and politics in general, in the United States.
Press Contact:
Hope Hicks
203-273-0226
Donald J. Trump, Trump Campaign Press Release - Donald J. Trump Exposes Club for Growth's Shakedown Attempt Online by Gerhard Peters and John T. Woolley, The American Presidency Project https://www.presidency.ucsb.edu/node/314393