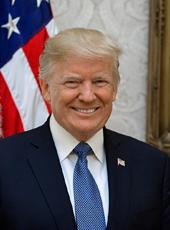 Trump Campaign Press Release - Donald J. Trump Endorsed by Two Great Businessmen, Tom Barrack and Andy Beal
(New York, NY) February 29th, 2016 — Today Donald J. Trump was endorsed by Thomas J. Barrack Jr., Executive Chairman of Colony Capital, and Andy Beal, the most successful and wealthiest investor in the country and the founder of Beal Bank, one of the most profitable banks in America, located in Dallas, Texas. Mr. Trump has received tremendous support from the business community where he is highly regarded for his negotiating, deal-making and unprecedented success in a variety of industries.
Mr. Trump stated, "It is truly an honor to receive the endorsement of two individuals I hold in the highest regard. They are smart, successful and the kind of business leaders our country needs to help negotiate trade deals, create jobs and spur economic development. I am proud to have their support and the support of two business leaders including Carl Icahn."
Tom Barrack is the Executive Chairman of Colony Capital, Inc. and is considered one of the foremost global real estate investors. Mr. Barrack and Mr. Trump have worked together and opposite each other on past deals. They have had a great relationship and share a mutual admiration for their respective accomplishments.
Barrack said, "Donald is one of the smartest and most astute businessmen I have had the pleasure of knowing. His mastery of financial, political and economic intellectual complexity combined with his charm and emotional intelligence when partnering with New York labor unions, governmental regulatory bodies, Wall Street lenders, sophisticated institutional global investors, demanding developers, global media and entertainment companies and hard-working employees, is a dynastic art form. I have invested with Donald in a multitude of transactions over three decades and he has always exceeded my expectations on every measurable metric of excellence. Donald is the only candidate in America who comes to the campaign trail already possessing power, wealth and celebrityship … He does not seek the Presidency to gain those accolades -- he has them. He seeks the Presidency to return those great attributes to America from whom he received them. I am happy to give Donald J. Trump my full endorsement to become the next President of the USA."
Andy Beal of Beal Bank, regarded to as the most successful investor said, "This country is at a crossroads and needs someone who has the strength of character to pursue "outside the box" solutions. I found great opportunity in this country and I want everyone to have access to that same opportunity. I am very concerned that our political system on both sides of the aisle is blocking rather than creating that access to opportunity and is out of touch with the American values that have made America great. Since our inception, our country has always been about creating an environment that fosters opportunity for everyone."
Beal continued, "Our government has lost sight of that fundamental principle that makes us all Americans. Instead, government keeps growing at the expense of individual opportunity. Since the financial crisis, our government has squandered many trillion of dollars in increased national debt with absolutely nothing to show for it. I don't agree with everything that anyone says, but I admire people who are willing to say what they are thinking, without regard to the popularity of the statement. Donald Trump is a man who understands the importance of creating opportunity for everyone and who freely speaks his mind. Donald Trump is the man to lead this nation on a new path and to Make America Great Again. I enthusiastically support Donald Trump for President and believe that your support for Donald is essential to put America back on the path to the greatness, that can only be achieved by embracing individual opportunity for everyone."
Mr. Trump continues to dominate all state and local polls with the most recent national survey from CNN showing Mr. Trump with 49% support ahead of tomorrow's Super Tuesday contest.
Donald J. Trump, Trump Campaign Press Release - Donald J. Trump Endorsed by Two Great Businessmen, Tom Barrack and Andy Beal Online by Gerhard Peters and John T. Woolley, The American Presidency Project https://www.presidency.ucsb.edu/node/314182