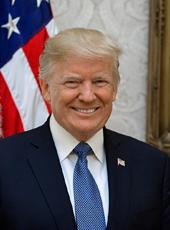 Trump Campaign Press Release - Donald J. Trump Endorsed by Kansas Secretary of State Kris Kobach
New York, NY (February 29th, 2016) — Today Kansas Secretary of State Kris Kobach announced that he is endorsing Donald J. Trump for the office of President of the United States.
In addition to his duties as Secretary of State, Kobach has been one of the nation's most prominent advocates of stronger enforcement of immigration laws. He served at the U.S. Department of Justice as Attorney General John Ashcroft's chief adviser on immigration law and border security during 2001-03. In that capacity, he designed and implemented the National Security Entry-Exit Registration System (NSEERS), which was used to monitor the activities of high-risk aliens in the United States after 9-11. Later, he co-authored Arizona's illegal immigration laws of 2007 and 2010. He has helped numerous other states draft state-level laws to reduce illegal immigration. Most notable were Missouri's omnibus immigration act of 2008 and Alabama's omnibus immigration act of 2011. Since 2012, he has represented in court ICE agents who sued the Obama Administration in an effort to stop Obama's executive amnesty of 2012.
"I am pleased to announce my support for Mr. Trump." said Secretary of State Kris Kobach. "For me, the most important issue in the Republican presidential contest is immigration and its effect on our national security. On that issue Mr. Trump stands head and shoulders above the other candidates. He has made it clear that ramping up the enforcement of our immigration laws will be his top priority. And he has forcefully rejected the notion of giving amnesty to illegal aliens living in the United States."
"Now, more than ever, America needs Mr. Trump's aggressive approach to the problem of illegal immigration. Our porous border represents a huge national security threat, and our refugee system has been abused by terrorists in the past and is likely to be abused by ISIS terrorists today. Moreover, there are too many Americans who are out of work because of illegal immigration or who are working in jobs where the wages are depressed because of illegal immigration."
"Finally, on the subject of building the wall on our southern border, Mr. Trump is correct when he says that the United States has the ability to compel Mexico to pay for it. As I have discussed with Mr. Trump, the PATRIOT Act contains a provision that the United States can and should use as leverage with the Government of Mexico. We have the ability to shut down the flow of remittances to Mexico from illegal aliens working in the United States. Mexico will have to make a choice: either make a single payment of $5-10 billion to the United States to pay for the wall, or lose most of the $23 billion in remittances that Mexico receives every year from its nationals working in the United States."
Donald J. Trump, Trump Campaign Press Release - Donald J. Trump Endorsed by Kansas Secretary of State Kris Kobach Online by Gerhard Peters and John T. Woolley, The American Presidency Project https://www.presidency.ucsb.edu/node/314170