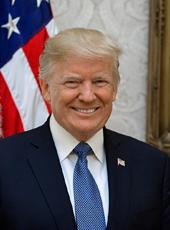 Trump Campaign Press Release - Donald J. Trump Endorsed by Jerry Falwell Jr.
(New York, NY) January 26th, 2016 — Today Donald J. Trump received the endorsement of Jerry Falwell Jr., just one week after Mr. Trump spoke to a record crowd at Falwell's Liberty University Convocation.
Mr. Trump said, "It is truly an honor to receive Jerry's endorsement. Not only is he a high quality person, with a wonderful family, whom I have great respect for — I also consider him a very good friend and his support means so much to me."
The endorsement, which is personal and not on behalf of the University, comes just days after the campaign released an ad featuring excerpts from Falwell's glowing introduction of Mr. Trump at the Liberty University event stating, "I see a lot of parallels between my father and Donald Trump. Like Mr. Trump, Dad would speak his mind… Dad explained that when he walked into the voting booth, he wasn't electing a Sunday school teacher, or a pastor, or even a President who shared his theological beliefs. He was electing a President of the United States to lead a nation."
After his endorsement Falwell added, "I am proud to offer my endorsement of Donald J. Trump for President of the United States. He is a successful executive and entrepreneur, a wonderful father and a man who I believe can lead our country to greatness again."
Under Falwell, Jr.'s leadership, Liberty University has grown to become the largest, private non-profit university in the nation, the largest university in Virginia and the largest Christian university in the world, creating an innovative business model for higher education and increasing net assets from $100 million in 2007 to over $1.6 billion today.
Mr. Trump continues to lead all national and state polls with the latest results from FOX News and CBS showing Mr. Trump gaining momentum with a strong lead in Iowa and substantial, double digit leads in New Hampshire and South Carolina. He also maintains a very strong lead in all national surveys, with the most recent CNN poll showing Mr. Trump with 41% support nationwide. Falwell's endorsement is expected to carry tremendous weight in Iowa, where Mr. Trump maintains strong support with the evangelical community as we approach the Iowa Caucus on February 1st.
Donald J. Trump, Trump Campaign Press Release - Donald J. Trump Endorsed by Jerry Falwell Jr. Online by Gerhard Peters and John T. Woolley, The American Presidency Project https://www.presidency.ucsb.edu/node/314339