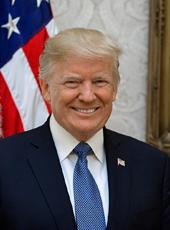 Trump Campaign Press Release - Donald J. Trump Begins Airing New Ad in South Carolina Focused on Illegal Immigration
(New York, NY) February 12th, 2016 — Today Donald J. Trump began airing a new ad in South Carolina focused on illegal immigration featuring Jamiel Shaw, whose son was brutally murdered by an illegal immigrant.
Mr. Trump says, "People wouldn't be talking about illegal immigration had I not brought it up when I announced I was running for President. It is a massive problem in our country and now everybody agrees with me --- bad for crime and the economy. A wonderful young man, Jamiel Shaw Jr., whose father has become a friend of mine, was shot in the face for no reason by an illegal immigrant. He was getting ready to go to college on a football scholarship and his sole fault was walking home to see his father. Because of the relationship I have established with his father, Jamiel's death is very personal to me. We must stop illegal immigration."
Jamiel Shaw added, "Donald Trump is the only person fighting to put American families first. He will protect our children and put an end to these senseless acts of violence that are caused by our failed policies and broken immigration system. Donald Trump has made it clear he, like most Americans, wants to return the rule of law to the people of this country. Without strong borders we don't have a country. Strong border enforcement is the first step to preventing future tragedies. We must secure our borders and return those who came here illegally to their native lands. Donald Trump is a man who stands for what is right. He stands for America and I stand with him."
The ad is currently airing in South Carolina leading up to the February 20th primary contest. Mr. Trump maintains a substantial, double digit lead in all state polls and will spend the week prior to the primary campaigning around the state.
You can view the ad here: http://www.donaldjtrump.com/media/jamiel-tv-spot
Donald J. Trump, Trump Campaign Press Release - Donald J. Trump Begins Airing New Ad in South Carolina Focused on Illegal Immigration Online by Gerhard Peters and John T. Woolley, The American Presidency Project https://www.presidency.ucsb.edu/node/314162