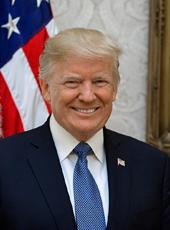 Trump Campaign Press Release - Donald J. Trump Announces the Formation of "Veterans for Trump" Coalition in New Hampshire
Donald J. Trump Announces the Formation of "Veterans for Trump" Coalition in New Hampshire
(New York, NY) July 23, 2015 — Today, Donald J. Trump, announced the formation of the "Veterans for Trump" Coalition in New Hampshire. These veterans have pledged their support to Mr. Trump in the primary, and they will be advocating for him among other veterans and military families in New Hampshire, where there continues to be overwhelming support for Mr. Trump.
Mr. Trump stated, "Our Veterans are incredibly important and I'm proud to have the support of this coalition, especially in New Hampshire, where if I am elected I will build a full-service, first-class VA hospital to ensure all New Hampshire Veterans received the care they deserve. I love all Veterans and will help them finally lead the kind of lives that they should be leading."
The Trump for President Veteran's Coalition's co-chairs are: Rep. Werner Horn of Franklin, Rep. Dan Tamburello of Londonderry, Rep. Joe Pitre of Farmington and Jerry Delemus of Rochester.
Dan Tamburello of the Marine Corps said, "I believe that Donald Trump has the leadership, the will, the courage, and the unabashed love-of country Americans so desperately crave in the White House. We have some very serious issues facing this country that are going to take a steely-eyed, proven, tough leader to overcome. Furthermore, should Mr. Trump find his way into the White House, he won't owe anything to anyone except the American people. Mr. Trump is a Patriot who loves his country, the American people, and cares about America being respected and great again. I believe he has what it takes to restore the faith of America's allies and be respected by our enemies once more."
In addition to forming the New Hampshire Veterans Coalition, earlier this week Mr. Trump established a hotline (855- VETS- 352) and email address ([email protected]) for Veterans to share their stories about the need to reform our Veterans Administration.
If he is elected President he will take care of these and all Veteran complaints very quickly and efficiently.
Veterans for Trump:
Rep. Werner Horn, Franklin, Vets Coalition Co-chair
Rep. Dan Tamburello, Londonderry, Vets Coalition Co-chair
Rep. Joe Pitre, Farmington, Vets Coalition Co-chair
Jerry Delemus, Rochester, Vets Coalition Co-chair
Tony Mayfield, Hillsborough
James Johnson, Nashua
Robert Kollman, Nashua
Hank Vanderbeek, Bedford
Michael, Fairley Stratham
Edward Anzalond, Nashua
David Staplefond, Nashua
Dennis Romeo , Hooksett
John Mercauto, Conway
Alfred Constant, Gilmonton Iron Works
Lionel Leblanc, Manchester
Marilyn Manfra-Walsh, Bethlehem
Frank Candelieri, Merrimack
Karl Zahn, Milford
Lou Gargiulo, Hampton Falls
Dennis Wolfe, Sandown
Robert Vallieres, Concord
Bob Banks, Hollis
Patrick O'Connor, Manchester
Jim Densmore , Claremont
Ralph Drews, Amherst
Robert Krahulec, Weirs Beach
Daniel Paul, Nashua
Brandon Brown, Pelham
Robert Sturtevant, Auburn
Edward Cunningham, Candia
Joe Capuzzo, Thornton
Ray Dewis, West Woodstock
Chuck Lindlau, Gilford
Bob Hamel, Laconia
David Patelle, Warren
Roger Rist, Meredith
Elaine Sweeny, Manchester
Steven Sweeny, Manchester
Donald Richards, Laconia
Connie Richards, Laconia
Ronald Tyo, Somersworth
Mike Zayac, Farmington
Bruce Berry, Berlin
Rodney Cramer, Belmont
Earl Gray, Plainfield
Bob Peligrino, Derry
Douglas Campbell, Manchester
Bill McNally, Windham
P.G McAdams, Manchester
Ernie Fusi, Atkinson
Rep Fred Doucette, Salem
Donald J. Trump, Trump Campaign Press Release - Donald J. Trump Announces the Formation of "Veterans for Trump" Coalition in New Hampshire Online by Gerhard Peters and John T. Woolley, The American Presidency Project https://www.presidency.ucsb.edu/node/314290