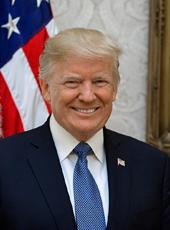 Trump Campaign Press Release - Donald J. Trump Announces Staff Expansion
(New York, NY) June 21, 2016 – Today, Donald J. Trump announced that he has hired several staff members to expand his campaign operations and focus on the general election in November. Veteran political operative Jim Murphy, former HR executive Lucia Castellano, digital services expert Brad Parscale, and former Bush Administration staffer Kevin Kellems have all taken roles with Mr. Trump's campaign.
Mr. Trump stated, "I continue to build a team of great people that will ensure we win in November. I have received more votes than any Republican in the history of the party and I am confident that, along with my team, we will take our movement to the White House and Make America Great Again."
Jim Murphy will serve as Mr. Trump's National Political Director focusing on the campaign's key battleground states. Jim will work closely with the RNC to build a comprehensive political ground game for the general election. Jim has over 30 years of political campaign experience having worked in over 60 national, congressional and statewide races including U.S. Senators Gordon Humphrey and Bob Dole.
Lucia Castellano will serve as Director of Human Resources for the campaign. Lucia has developed and delivered business aligned HR programs on a domestic and global scale. She will handle day-to-day HR activities as well as provide strategic advice and guidance.
Brad Parscale will spearhead Mr. Trump's digital team as the campaign's digital director. Brad is the co-founder of Giles-Parscale, a digital media and branding company based in San Antonio, Texas. With over 20 years in the digital space, Brad has served the Trump Organization in building its digital platform globally.
Kevin Kellems will work to build out the campaign's surrogate operations as the Director of Surrogates. Kevin brings decades of political campaign experience to Mr. Trump's operation and has worked for U.S. Senators Richard Lugar and Dan Coats and served as a communications aide to Vice President Cheney in 2003.
The campaign has also added staff to the Communications Division to expand its research and rapid response capabilities. More hires in this department are expected to be announced as the campaign continues to grow prior to the convention in July.
Donald Trump has energized millions of hard-working people across the country to support his positions on the economy, jobs, immigration, national security, education and healthcare. Winning almost 14 million votes in the Republican primary, more than any Republican candidate in history, Mr. Trump will continue working for the people and tackling the real problems facing our nation.
Donald J. Trump, Trump Campaign Press Release - Donald J. Trump Announces Staff Expansion Online by Gerhard Peters and John T. Woolley, The American Presidency Project https://www.presidency.ucsb.edu/node/317873