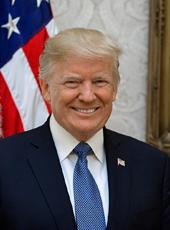 Trump Campaign Press Release - Debate Commission Leaves Door Open to Revised Debate Schedule if Biden Agrees
In a reply to President Trump's re-election campaign Thursday, the Commission on Presidential Debates left the door open to a revised debate schedule if Joe Biden agrees to a fourth debate or one moved to an earlier date before voters begin casting ballots. The Trump campaign has agreed to the three existing debates, but has argued that one should be added or rescheduled to prior to September 4, 2020, when the first ballots will be in the hands of voters in North Carolina. Millions of voters will be able to vote long before the first debate on the current schedule on September 29, 2020.
The Trump campaign responded to the Commission in a letter on Thursday.
"We are disappointed in your response, but appreciate your openness to a fourth, or earlier, debate '[i]f the candidates were to agree that they wished to add to that schedule[,]'" wrote Rudy Giuliani, former Mayor of New York and representative of the Trump campaign. "Your reply makes it clear that the idea of an earlier debate is, in effect, locked away in the basement, alone and diminished. We continue to believe that the American people deserve to see their candidates for president compare their records and visions for the United States before actual voting begins."
The Trump campaign reiterated its view that an earlier debate is essential to Americans as they make their decisions in the election, particularly given the attention to early voting during the coronavirus crisis. The campaign noted that millions of Americans will be able to vote in 16 states prior to the first debate on the current schedule.
"The Commission's current debate schedule remains outdated and fails to adapt to the election calendar of today," the letter reads. "In 1980, only 5 percent of voters cast their ballots before Election Day, with that figure certain to be over 50 percent in 2020. But even in 1980, the debate schedule began earlier, with the first debate held on September 21, as compared to this year's first event on September 29. The old, tired answer of 'we've always done it this way' simply will not suffice in this extraordinary year."
The Trump campaign asked for firm assurance that Biden would appear on stage with President Trump, even if there were no live audience in attendance.
"We must insist on a commitment that the two candidates will definitely appear on stage, in person – whether in a television studio without an audience or elsewhere – and not through separate, online transmissions where Mr. Biden could rely on notes, teleprompter, or handlers," the letter reads.
Read the Trump campaign's full letter here.
Donald J. Trump, Trump Campaign Press Release - Debate Commission Leaves Door Open to Revised Debate Schedule if Biden Agrees Online by Gerhard Peters and John T. Woolley, The American Presidency Project https://www.presidency.ucsb.edu/node/345764