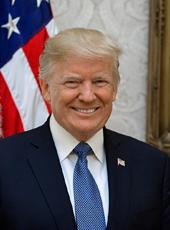 Trump Campaign Press Release - Correct The Record: Fact Checking Biden's Press Conference?
Yesterday, Biden spread multiple falsehoods, misrepresentations, and outright lies
BIDEN: "The President reportedly said, and I emphasize reportedly said, that those who sign up to serve, instead of doing something more lucrative are 'suckers.'"
FACT: At least 10 officials who were on the trip to France with President Trump have gone on the record to refute the anonymous sources and allegations in The Atlantic article:
Additionally, The Atlantic's reporting has been refuted by a White House email and Navy documents that directly show a "bad weather call" was the reason for the canceled presidential trip to Aisne-Marne American cemetery in 2018.
BIDEN: "The August jobs report came out this morning ... The pace of the jobs gains in August was slower than July, significantly slower than in May and June."
FACT: The number of jobs added back in August was the fourth largest one-month gain on record.
The economy added back 1.4 million jobs in August, which only trails the one-month gains in May, June, and July.

Comparatively, the largest one-month jobs gain during Biden's "recovery" was 540,000 new jobs, less than half the number of jobs added in August.
BIDEN: "And after six months in the pandemic, we're less than halfway back to where we were, with one, 11 million, 11.5 million Americans not getting their jobs back."
FACT: The economic comeback is occurring at an historic pace, and Biden's "recovery" took nearly seven times as long as the current comeback to add back a similar percentage of jobs lost.
In the last four months, the economy has added back 48 percent of the jobs lost due to the pandemic.

The 10.6 million jobs added during this time represent the largest four month jobs gain in U.S. history.

By comparison, it took 27 months for the Biden "recovery" to add back 4.2 million jobs, 48 percent of the jobs lost during the Great Recession.
BIDEN: "In the meantime, Trump and his friends have strong views about what the rest of America should do: ... Defund Social Security ..."
FACT: President Trump's payroll tax deferral does not defund social security, and this attack by Biden and his allies has been debunked.
REPORTER: "Attorney General William Barr saying on CNN this week, he said that his assessment right now is that China poses the most aggressive threat to U.S. elections..." BIDEN: "He is a lousy enough Attorney General but he is a really bad intelligence officer."
FACT: Biden is denying the assessments of our nation's national security and intelligence officials, who say China poses the largest threat.
BIDEN: "[Kamala Harris has] been on the road, she's out herself."
FACT: Harris is not on the road campaigning, but spent yesterday in a virtual, big-dollar fundraiser, with tickets ranging from $10,000 to $500,000 per person.
On September 3, Harris held a big-dollar virtual fundraiser with Hollywood elites and producer Doug Prochilo, who has repeatedly made offensive and sexist comments.
BIDEN: "Violence isn't a problem in Trump's eyes, it's a political strategy — and the more of it, the better, as his press secretary had said."
FACT: These comments – which Biden made at an afternoon fundraiser –misquoted and misconstrued comments from Counselor to the President Kellyanne Conway, not White House Press Secretary Kayleigh McEnany.
Conway was responding to a question about something Biden supporter Pete Buttigieg said, falsely blaming President Trump for the violence occurring in Democrat-run cities.

In response, Conway said "The more chaos and anarchy and vandalism and violence reigns, the better it is for the very clear choice on who's best on public safety and law and order."

This is not the first time Biden has misquoted Conway.
Donald J. Trump, Trump Campaign Press Release - Correct The Record: Fact Checking Biden's Press Conference? Online by Gerhard Peters and John T. Woolley, The American Presidency Project https://www.presidency.ucsb.edu/node/345588